Welcome to an enchanting journey through the realm of opulence and indulgence: Luxury Hotels in London, the epitome of refined elegance and sophistication. From regal palaces steeped in history to sleek modern retreats exuding contemporary allure, London is a treasure trove of magnificent accommodations tailored for discerning travelers.
Immerse yourself in the grandeur that awaits at these lavish establishments as they redefine the concept of luxury. Experience impeccable service coupled with exquisite attention to detail, where your every desire is anticipated and fulfilled beyond expectations. Indulge in sumptuous culinary delights crafted by world-renowned chefs or unwind in lavish spa sanctuaries that promise pure relaxation and rejuvenation.
As you wander through this cosmopolitan city, marvel at iconic landmarks such as Buckingham Palace and Big Ben while knowing that an oasis of tranquility awaits you just moments away. Allow yourself to be captivated by timeless beauty blended seamlessly with modern comforts, making each stay an unforgettable sojourn into a world where luxury knows no bounds. So pack your bags and embark on a luxurious escapade into the heart of London's finest hospitality offerings!
Most Luxurious Hotels in London
Hyatt Regency London – The Churchill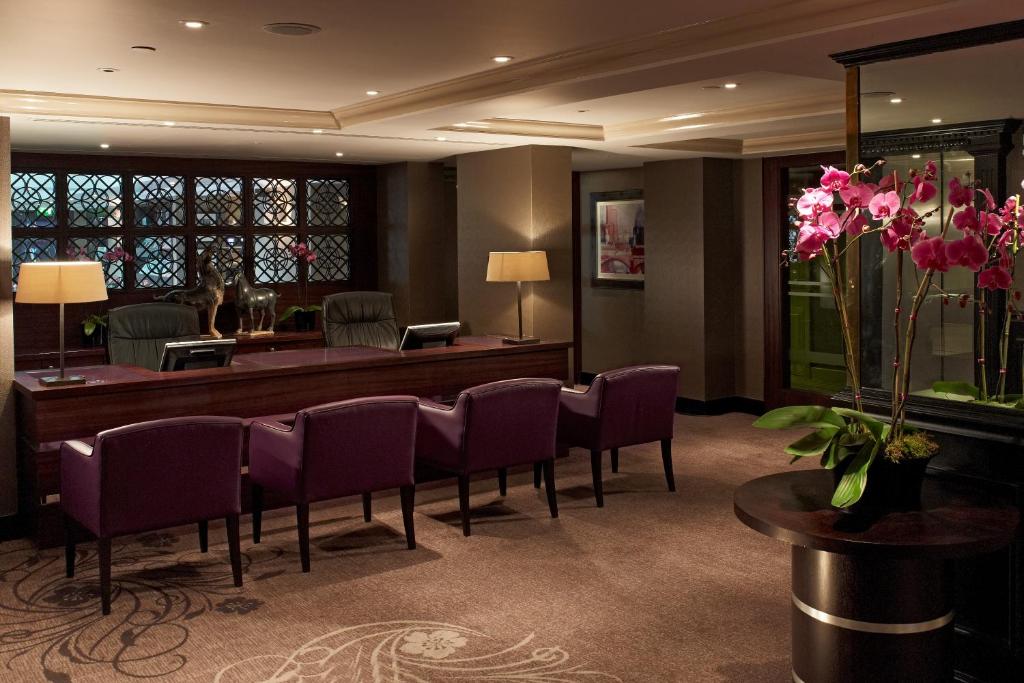 Located in the exclusive Marylebone neighborhood, just 200 meters from Marble Arch Tube Station, Hyatt Regency London – The Churchill offers a luxurious and elegant stay in the heart of the city. With Hyde Park, Oxford Street, and Harley Street on its doorstep, guests have easy access to premier shopping destinations such as Selfridges and Bond Street. The hotel features a 24-hour state-of-the-art fitness center, private rooms for spa treatments, a floodlit tennis court in Portman Square, and two Regency Club lounges for added benefits. Guests can unwind at the award-winning Churchill Bar & Terrace or enjoy a peaceful night's sleep surrounded by leafy parks. Families are well catered for with spacious Two-Bedroom Garden View Suites and Family Room options available. Dining options range from British classics at The Montagu Kitchen to Michelin-starred Italian cuisine at Locanda Locatelli. With excellent access to public transport and just a short drive from Paddington Rail Station, connecting to Heathrow Airport is quick and convenient via the Heathrow Express.
– Central location in exclusive Marylebone
– Accessible luxury with top shopping destinations nearby
– State-of-the-art fitness center and spa facilities
– Tranquil setting surrounded by greenery for peaceful nights' sleep
– Wide range of dining options including Michelin-starred restaurant
Haymarket Hotel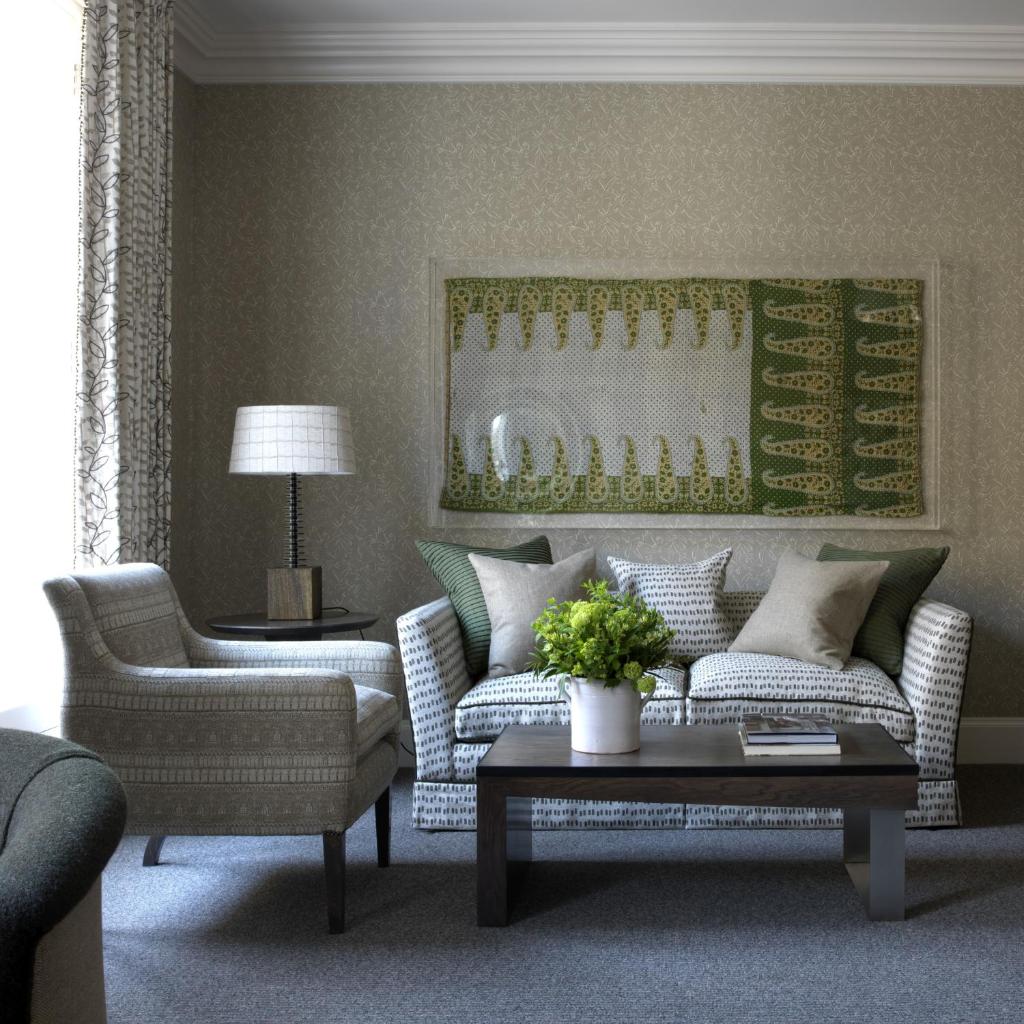 Located in the heart of London's vibrant theatre district, Haymarket Hotel offers a luxurious and elegant stay surrounded by an array of restaurants, bars, and the iconic Theatre Royal. Guests can indulge in a range of amenities including a refreshing swimming pool, well-equipped gym, and a serene spa offering an extensive selection of treatments. The hotel's restaurant prides itself on using fresh seasonal produce, while the bar serves delectable tapas. Afternoon tea enthusiasts can delight in a menu featuring delicious cakes, scones with clotted cream and jam, and an impressive variety of teas and coffees. Each room at Haymarket Hotel is equipped with modern essentials such as a flat-screen TV, iPod docking station, writing desk, 24-hour room service, and a fully stocked minibar. The hotel enjoys close proximity to St James's Park (a mere 5-minute walk away), Buckingham Palace reachable within 15 minutes on foot; while the Houses of Parliament and Big Ben are just moments away for easy exploration.
– Convenient location in London's theatre district
– Luxurious swimming pool and spa facilities
– Fresh seasonal produce served at the restaurant
– Impressive afternoon tea menu
– Well-appointed rooms with modern amenities
The Ned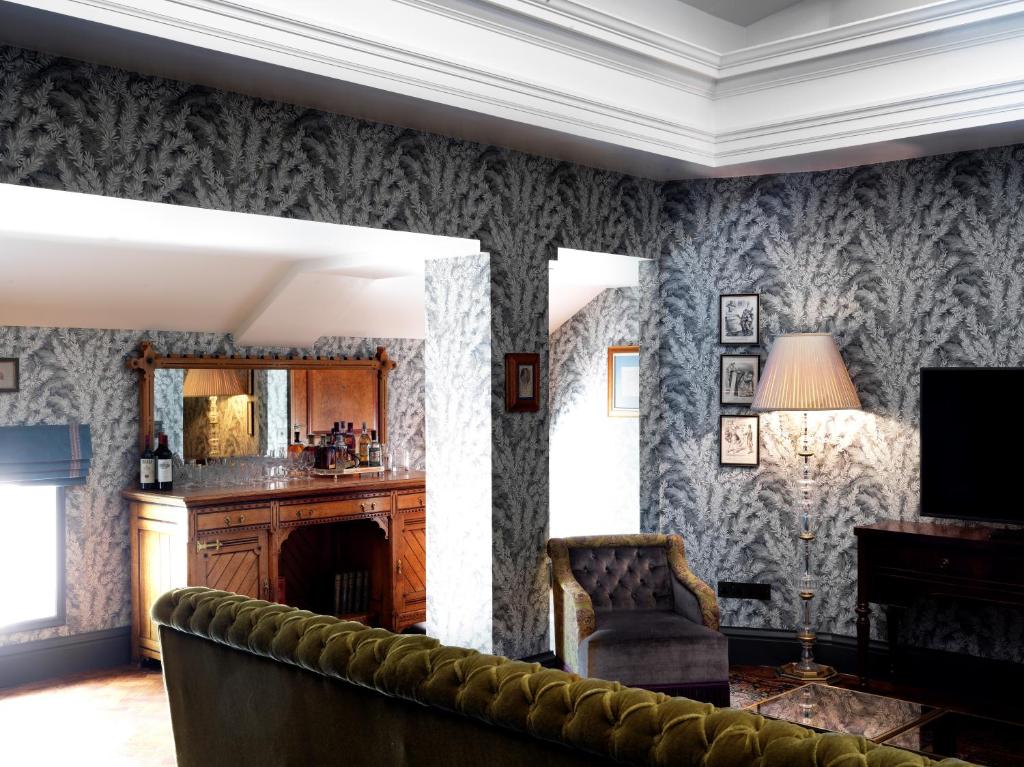 Located in the heart of London's financial district, The Ned offers a luxurious and historic experience for its guests. Housed in the iconic former Midland Bank building, which was designed by Sir Edwin 'Ned' Lutyens in 1924, this Grade I-listed hotel boasts 250 stylish bedrooms that incorporate elements of design from the 1920s and 1930s. From vintage pieces to patterned furnishings and rainforest showers, each room exudes elegance and charm. The Ned is not just a place to sleep; it also features ten restaurants serving various cuisines from around the world, ensuring there is something to satisfy every palate. Additionally, guests have access to six private hire rooms and two terraces with reception areas for hosting events or simply enjoying stunning views of London. For those seeking relaxation or exercise during their stay, access to The Ned's Club Gym and Spa can be arranged at an additional cost (subject to availability). With its prime location near popular attractions like St. Paul's Cathedral and excellent transport connections via Bank Station, including a direct DLR connection to London City Airport, The Ned provides convenience and luxury all in one.
Pros:
– Stunning historic architecture
– Range of dining options offering diverse cuisines
– Access to private hire rooms for events or gatherings
– Convenient location near major attractions
– Excellent transport connections
Other places to stay in London
Luxury Hotels in Downtown London
Luxury hotels in downtown London offer discerning travelers an exceptional experience that seamlessly blends opulence with the vibrant energy of the city. These prestigious establishments boast an unparalleled level of elegance, from their lavish interiors to impeccable personalized service. Situated in prime locations, guests can easily access iconic landmarks and renowned attractions just steps away. With their sophisticated design, exquisite dining options, and indulgent spa facilities, luxury hotels in downtown London provide a haven of tranquility amidst the bustling cosmopolitan atmosphere of this world-class destination.
The Chesterfield Mayfair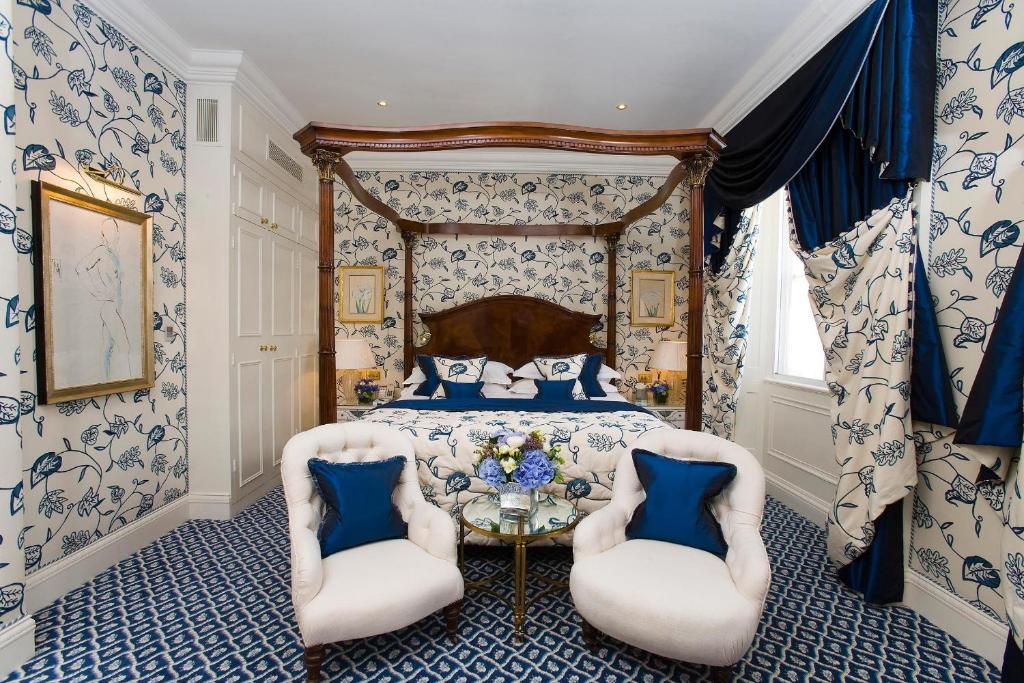 Located in the prestigious Mayfair neighborhood of London, The Chesterfield Mayfair is a luxurious 4-star hotel that offers a perfect blend of traditional British charm and modern comforts. Just off Berkeley Square and within walking distance of Oxford Street, this hotel boasts air-conditioned rooms with complimentary WiFi. Business travelers can opt for specially designed rooms with additional desk space, luxury office chairs, and other business amenities. The hotel's award-winning Butler's Restaurant serves delicious meals that have earned an AA Rosette award, while its daily Traditional Afternoon Tea has won the Tea Guild Award of Excellence for three consecutive years. With Hyde Park and Green Park just a stone's throw away, as well as Buckingham Palace within 800 meters, guests can easily explore some of London's most iconic landmarks. Additionally, Green Park Underground Station and Bond Street shops are conveniently located just 300 meters away from the hotel. Each room at The Chesterfield Mayfair features cable TV, complimentary bottled mineral water, and a choice of bed linen and pillows to ensure maximum comfort. Leisure rooms offer ample storage space and cozy seating areas. Guests can unwind at the Terrace Bar with its extensive selection of whiskey or take advantage of the convenient 24-hour room service.
Pros:
– Excellent location in the heart of Mayfair
– Complimentary WiFi throughout the property
– Business-friendly rooms with extra amenities
– Award-winning dining options including Butler's Restaurant
– Cozy Terrace Bar with a wide variety of whiskeys
The Resident Covent Garden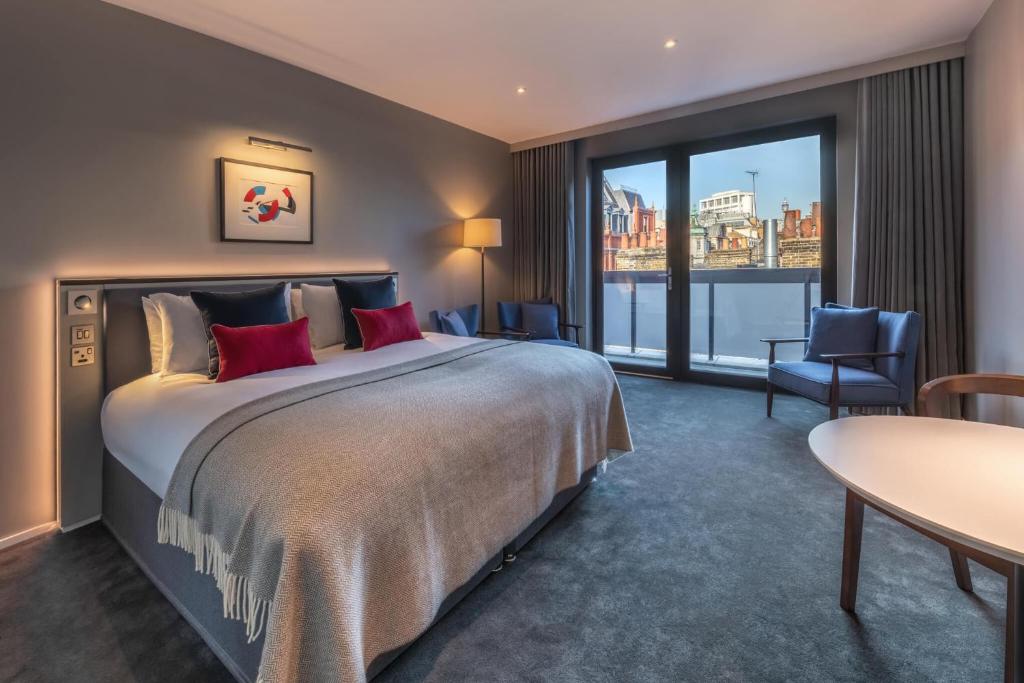 Located in the vibrant West End of London, just a short stroll from Covent Garden Piazza and Charing Cross station, The Resident Covent Garden offers luxurious air-conditioned rooms with complimentary WiFi. Guests will find themselves conveniently close to popular attractions such as Theatre Royal Drury Lane, Savoy Theatre, and The National Gallery. With its recent recognition of the Green Tourism's Gold Award for sustainable practices, this hotel is committed to providing an eco-friendly experience. Each room features an en-suite bathroom with a powerful shower (either as a walk-in shower or a shower over bath), as well as a mini-kitchen equipped with a microwave, fridge, sink with BRITA filter water tap, kettle, free Fairtrade teas, and Nespresso coffee machine with complimentary capsules. Additional amenities include a TV, desk, USB charging points for convenience. The friendly reception staff are always ready to offer helpful advice on exploring the area and planning your day. London City Airport is located 14 km away from the hotel.
– Convenient location near Covent Garden Piazza
– Complimentary WiFi throughout the property
– Rooms equipped with mini-kitchens and Nespresso machines
– Eco-friendly practices recognized by Green Tourism's Gold Award
– Helpful reception staff offering local area advice
Taj 51 Buckingham Gate Suites and Residences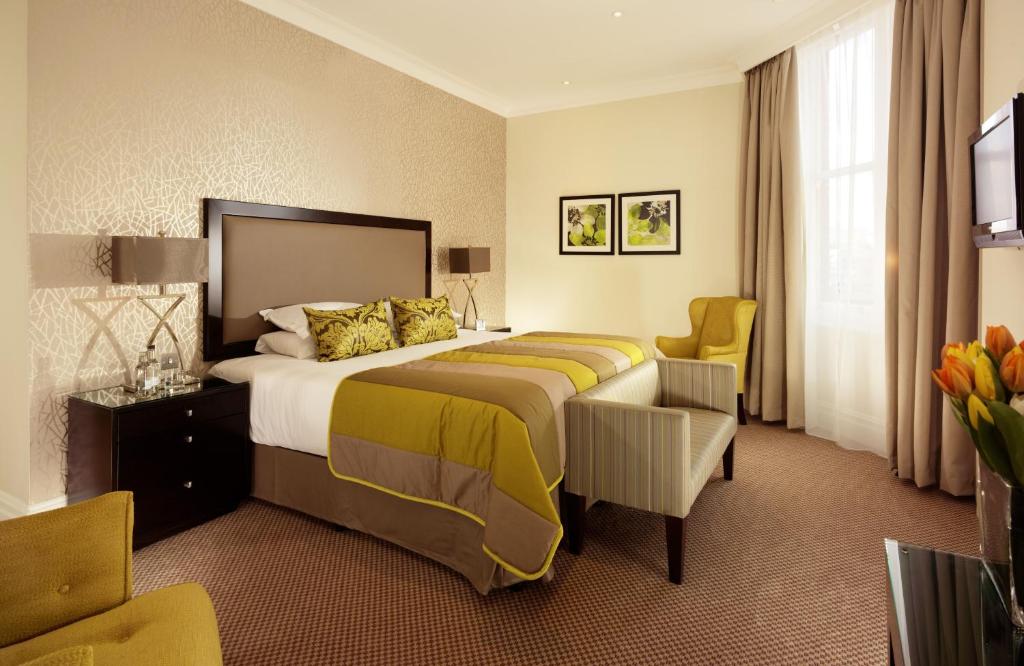 The Taj 51 Buckingham Gate Suites and Residences is a luxurious 5-star hotel located in the heart of Westminster, just a short distance away from Buckingham Palace, Hyde Park, and Mayfair. This upscale hotel offers guests an array of amenities including three restaurants serving delectable cuisine, a full-service spa offering rejuvenating treatments inspired by Indian wellness philosophies, and a state-of-the-art fitness center open 24 hours. The suites at Taj 51 Buckingham Gate feature air-conditioning, fully equipped kitchenettes with separate living areas, modern bathrooms with plush bathrobes and designer toiletries, and flat-screen TVs. Guests can also enjoy free WiFi throughout their stay. One of the highlights of this hotel is the Victorian Courtyard which provides a tranquil escape from the bustling city and serves as an ideal spot for alfresco dining or sipping cocktails. The property's location in London's Royal Quarter makes it easily accessible from both Gatwick and Heathrow International airports via the Gatwick Express train service. With its impeccable service provided by butlers and Golden Key Concierge available round-the-clock, Taj 51 Buckingham Gate Suites and Residences offers guests an unforgettable luxury experience.
– Central location near popular attractions
– Three excellent restaurants offering diverse cuisines
– Full-service spa with Indian-inspired treatments
– Victorian Courtyard for relaxation and outdoor dining
– Attentive butler service available around-the-clock
Most Expensive Hotels in London
London is renowned for its opulent hospitality offerings, boasting some of the most luxurious hotels in the world. The city's most expensive hotels provide an exquisite blend of refined elegance, superior service, and unparalleled comfort. These high-end establishments offer guests a haven of indulgence, with lavish accommodations and meticulously designed interiors that showcase modern sophistication intertwined with timeless charm. From breathtaking views over iconic landmarks to delectable culinary experiences curated by renowned chefs, these exclusive retreats redefine luxury and create unforgettable experiences for discerning travelers seeking the epitome of grandeur in their stay.
Sea Containers London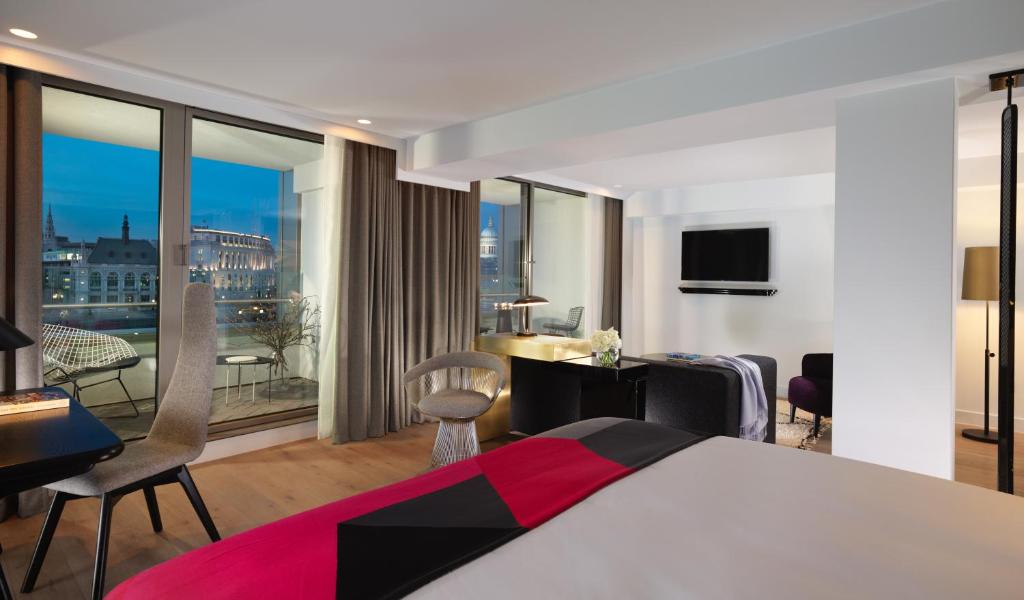 Located on the banks of the River Thames, Sea Containers London is housed in the iconic Sea Containers House and offers a prime location just a short walk away from popular attractions such as the Tate Modern, Shakespeare's Globe Theatre, London Eye, Borough Market, The London Dungeon, and SEA LIFE London Aquarium. This luxurious hotel features a riverside restaurant with outdoor seating, a cocktail bar, an agua spa for ultimate relaxation, a rooftop bar with stunning panoramic views of London, and a terrace to enjoy the cityscape. Designed by renowned designer Tom Dixon, each room is beautifully decorated with bespoke furniture and equipped with modern amenities including a flat-screen HD TV and minibar. Guests can indulge in free WiFi throughout their stay. The marble bathrooms offer either rainfall showers or baths along with complimentary Malin+Goetz toiletries. Many of the rooms provide breathtaking river views directly facing the Thames while some even have balconies to enjoy them from. For entertainment options within the hotel itself, there is Curzon – an on-site cinema screening new releases as well as classic matinees and family favorites during weekends in its bespoke 56-seat theater. With Waterloo Train Station just 12 minutes away on foot and London Blackfriars Train Station only an 8-minute walk away from the hotel premises guests are provided easy access to explore all that this vibrant city has to offer.
Pros:
– Prime location near famous attractions
– Riverside restaurant offering outdoor seating
– Luxury spa for ultimate relaxation
– Rooftop bar providing stunning panoramic views of London
– Beautifully designed rooms with modern amenities
The Athenaeum Hotel & Residences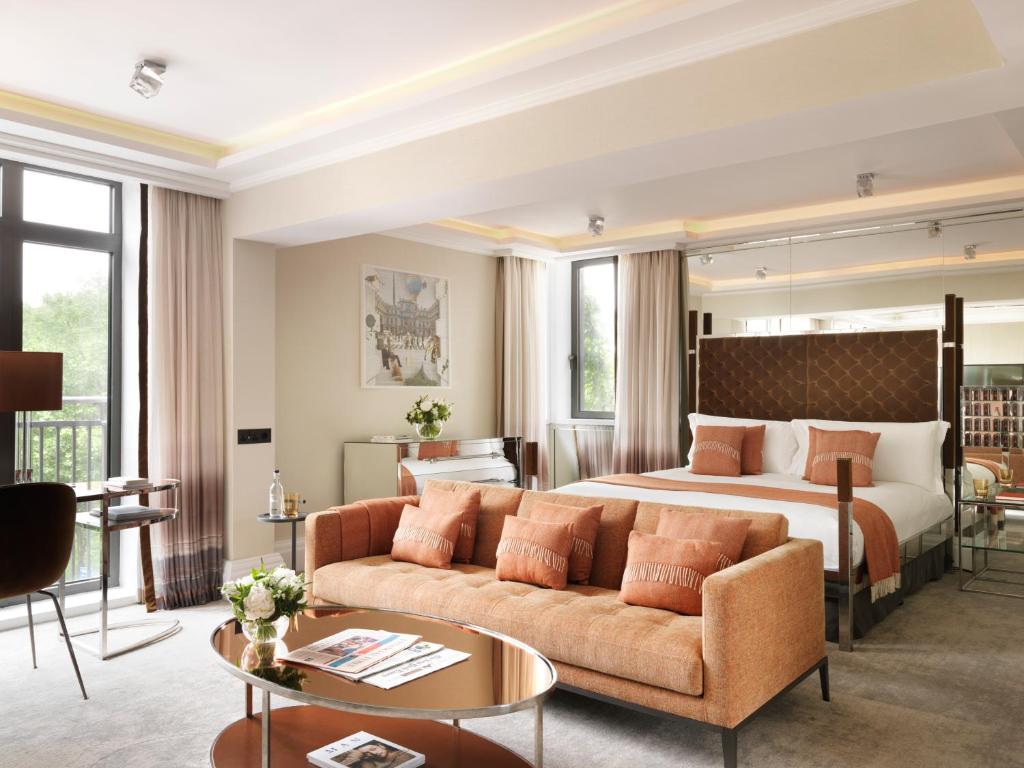 The Athenaeum Hotel & Residences is a stylish and elegant 5-star hotel that offers luxurious and contemporary rooms, suites, and apartments overlooking leafy Green Park. Located opposite Royal Parks and Buckingham Palace, this hotel is perfectly situated for exploring London's top attractions. The boutique spa provides guests with relaxing treatments, a beautiful relaxation room, wet area, and a well-equipped fitness room. With spacious air-conditioned rooms featuring floor-to-ceiling windows, flat-screen TVs with pay-per-view movies, and complimentary WiFi access, guests are sure to have a comfortable stay. Additionally, the hotel boasts 116 at The Athenaeum, a contemporary British restaurant led by Executive Chef Ian Howard. The restaurant offers a warm atmosphere to dine in with relaxed yet chic interiors and menus that champion local producers and use only the very best ingredients.
– Stunning views of Green Park
– Convenient location near top attractions
– Boutique spa offering relaxation treatments
– Spacious rooms with modern amenities
– Contemporary British restaurant championing local produce
Brandshatch Place & Spa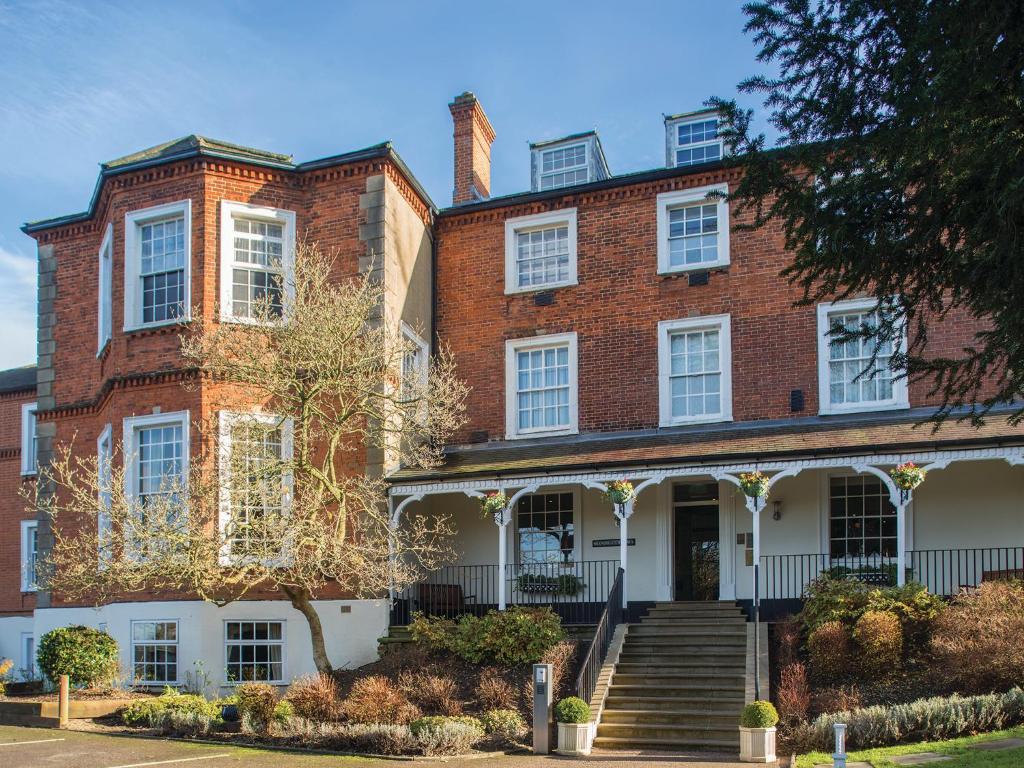 Brandshatch Place & Spa is a stunning Georgian mansion that dates back to 1806 and is nestled within 12 acres of picturesque countryside in Kent. Its convenient location near major motorways and London, as well as Gatwick and Heathrow airports, makes it easily accessible for travelers. The hotel boasts a spa and indoor pool, perfect for relaxation. The Dining Room Restaurant has received numerous awards for its exceptional English cuisine made with fresh ingredients. The rooms are stylishly designed and equipped with modern amenities such as wide screen TVs and free Wi-Fi. Guests can enjoy complimentary tea and coffee making facilities, as well as luxurious toiletries by Gilchrist & Soames in the bathrooms. Afternoon tea or cocktails can be enjoyed in the Drawing Room and Bar which also features an outdoor terrace. For those looking to pamper themselves, the hotel offers a range of treatments including facials, body wraps, and hot stone therapy at an additional cost. In addition to the spa facilities, guests can also take advantage of the fitness center, sauna, and hot tub on-site. If you're a fan of racing or simply want to experience some excitement nearby, Brands Hatch racing circuit is only 1 mile away from the hotel. With its convenient location just 30 minutes' drive from Maidstone and complimentary public parking available on site, Brandshatch Place & Spa offers both tranquility in nature's embrace along with easy access to urban attractions.
– Convenient location near major motorways
– Luxurious spa facilities including an indoor pool
– Award-winning dining experience at The Dining Room Restaurant
– Stylish rooms with modern amenities
– Close proximity to Brands Hatch racing circuit
Cheap Luxury Hotels in London
London offers a plethora of options for travelers seeking affordable luxury accommodation. With a wide range of cheap luxury hotels, visitors can experience the city's lavishness without breaking the bank. These hotels boast stylish and comfortable rooms, attentive service, and convenient locations near popular attractions. From trendy boutique properties to elegant traditional establishments, London's cheap luxury hotels provide an excellent balance between price and opulence, making them an ideal choice for budget-conscious travelers looking to indulge in a little extravagance during their stay in the vibrant capital.
The Ritz London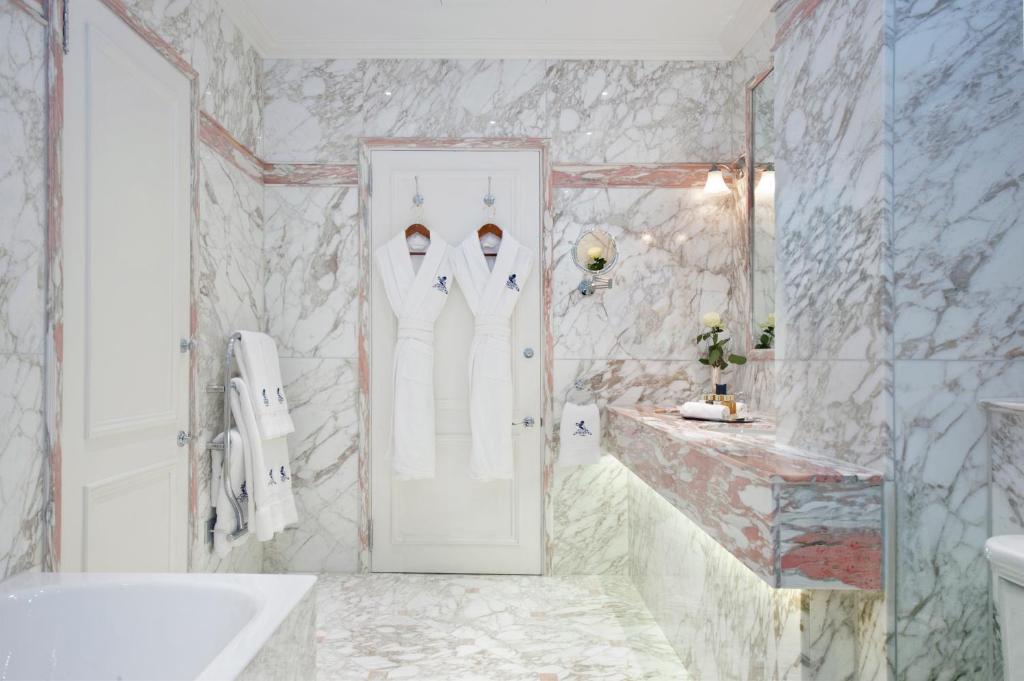 The Ritz London is a luxury boutique hotel located right next to Green Park in the heart of the city. Housed in a beautiful Neoclassical building, this iconic hotel offers an unparalleled experience of opulence and elegance. The bedrooms are luxuriously appointed with stunning period architecture, antique furnishings, and modern amenities to ensure a comfortable stay. Guests can indulge their culinary senses at the Michelin star Ritz Restaurant overlooking the picturesque gardens, where they can savor exquisite British cuisine with a contemporary twist. In addition, the hotel's classic afternoon teas are not to be missed. The Rivoli Bar is a stylish Art Deco-inspired space adorned with gold leaf decoration, providing an intimate setting for guests to unwind and enjoy a crafted cocktail or two. Complimentary WiFi throughout ensures that guests stay connected throughout their visit.
– Stunning period architecture and antique furnishings
– Michelin-starred dining experience
– Classic afternoon tea
– Elegant Art Deco-inspired Rivoli Bar
– Complimentary WiFi
The Dorchester – Dorchester Collection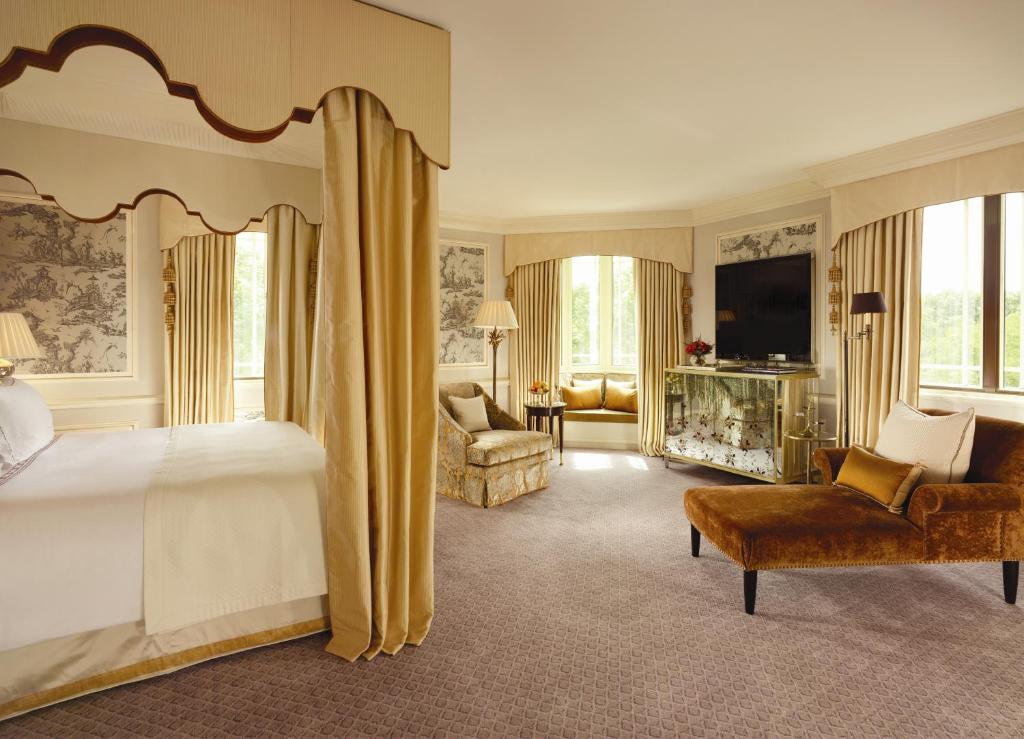 Located in the prestigious Mayfair neighborhood, The Dorchester – Dorchester Collection is an exclusive luxury hotel that offers a range of amenities for its guests. With its stunning views overlooking Hyde Park, the hotel features a spa with chandeliers made from South-Pacific pearls, offering beauty treatments and therapies. Guests can also enjoy free WiFi throughout the property, as well as access to a fitness center and chic relaxation room. The sumptuous 5-star rooms feature Italian-marble bathrooms with fluffy bathrobes and scenic views over Hyde Park or the hotel's terraces. Dining options include Alain Ducasse serving fine French cuisine, The Grill offering a modern British menu, and indulgent afternoon teas served in The Promenade. Additionally, guests can unwind in stylish bars that serve cocktails and fine spirits. With its convenient location between Marble Arch and Hyde Park Corner, The Dorchester is just minutes away from popular attractions such as Knightsbridge, Museum Mile, and Oxford Street.
– Stunning views overlooking Hyde Park
– Luxurious spa with unique chandeliers made from South-Pacific pearls
– Free WiFi available throughout the property
– Sumptuous 5-star rooms with Italian-marble bathrooms and scenic views
– Excellent dining options including fine French cuisine and modern British menu
Information about Luxury Hotels in London
| | |
| --- | --- |
| 🛎️ Luxury Hotels in London | 11 |
| 💵 Hotels Prices From | $223 |
| 💰 High season average price | $816 |
| ⭐ Number of Hotels Reviews | 9/10 |
FAQ
What are some of the best luxury hotels in London?
London boasts a wide range of luxurious accommodations, but some of the best luxury hotels in the city include The Savoy, known for its opulent decor and impeccable service
Are there any luxury hotels near popular attractions in London?
Yes, there are several luxurious hotels conveniently located near popular attractions in London. For example, The Langham is just a short distance from Oxford Street and Covent Garden, making it an ideal choice for shoppers and theater-goers alike. Another option is The Shard's Shangri-La Hotel, which offers stunning views of the city skyline from its prime location near iconic landmarks such as Tower Bridge and the Tower of London.
What amenities can I expect at a luxury hotel in London?
Luxury hotels in London pride themselves on providing exceptional amenities to their guests. These may include lavish spas offering a range of treatments, state-of-the-art fitness centers with personal training services, gourmet restaurants serving world-class cuisine, stylish bars perfect for relaxing or socializing, high-end boutiques showcasing designer fashion brands, concierge services that cater to every need or request imaginable, and sumptuous guest rooms featuring plush bedding and cutting-edge technology.
How much does it cost to stay at a luxury hotel in London?
The cost of staying at a luxury hotel in London varies depending on factors such as location, seasonality, room type, and additional services. On average though you can expect to pay around £400-£800 per night for a luxurious room at one of the top-notch properties. However prices can go higher than this if you opt for exclusive suites or book during peak travel periods.
Do luxury hotels in London offer special packages or deals?
Yes! Luxury hotels in London often offer special packages and deals to enhance guests' experiences and provide added value. These can include perks such as complimentary breakfast, spa treatments, afternoon tea, scenic tours, or tickets to popular attractions. It's worth checking the hotel's website or contacting their reservations team to inquire about any current promotions or exclusive offers that may be available during your desired travel dates.
Popular Luxury Hotels destinations