As a travel writer and connoisseur of high-end accommodations, I am thrilled to present my insights on opulent hotels in the vibrant city of New York, USA. This bustling metropolis offers an array of sumptuous lodgings that are sure to surpass the expectations of even the most discerning travelers. From swanky boutique establishments to grand, lavish resorts, New York boasts a dazzling selection of luxury hotels that promise unrivaled sophistication and indulgence.
Immerse yourself in sheer elegance as you step foot into these exquisite havens of comfort and style. Each hotel exudes its own unique charm, boasting meticulously designed interiors adorned with luxurious furnishings and ornate detailing. Whether you prefer sleek modernity or timeless classicism, there is a luxury hotel in New York that caters to your personal taste.
Prepare to be pampered by dedicated staff who anticipate your every desire and cater to your every whim. Indulge in world-class amenities such as rejuvenating spas, rooftop infinity pools with breathtaking views, and Michelin-starred restaurants serving culinary masterpieces. With their impeccable service, state-of-the-art facilities, and prime locations amidst the city's iconic landmarks and attractions, these luxury hotels offer an unforgettable experience for those seeking nothing but the finest hospitality during their stay in New York City
Most Luxurious Hotels in New York
ModernHaus SoHo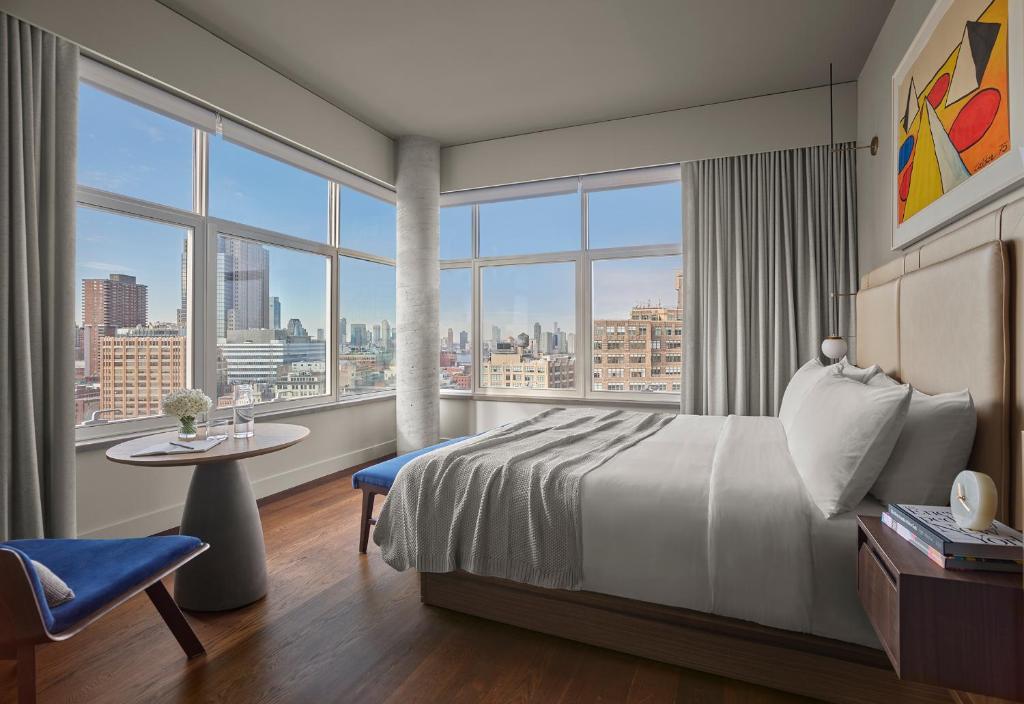 The ModernHaus SoHo is a luxury hotel located in the trendy neighborhood of SoHo, renowned for its fashion, art, and shopping scene. The hotel offers an array of amenities including two bars and a restaurant on-site. Guests can indulge in breathtaking views of the city from the rooftop lounge, Jimmy, which also features a seasonal outdoor pool overlooking the Hudson River. The rooms at ModernHaus SoHo are designed with modern elegance in mind and boast a floor-to-ceiling glass wall separating the bathroom from the living quarters. Each room is equipped with wood floors, 42-inch flat-screen TVs, Nespresso coffee machines, and luxurious Le Labo bath amenities. Guests can enjoy complimentary WiFi throughout their stay. Other highlights of this luxurious hotel include Jumpin Jacks – a stylish space offering craft coffee by day and signature cocktails in the evening – with an impressive two-story glass wall providing stunning views of the outdoor Urban Garden and Avenue of the Americas below. The James Club offers a selection of snacks from Balthazar bakery as well as La Colombe coffee, while guests can also enjoy complimentary wine served nightly. For unforgettable dining experiences, Veranda offers al fresco dining during warmer months with its retractable glass roof providing panoramic views over bustling SoHo streets. The menu at Veranda showcases seasonal American cuisine crafted by Michelin-starred chef George Mendes. With its prime location just 161 meters from Canal Street subway station and only 1.4 km away from City Hall, ModernHaus SoHo truly provides both convenience and sophistication for discerning travelers.
– Rooftop lounge with breathtaking views
– Stylish Jumpin Jacks offering craft coffee & cocktails
– Luxurious rooms with elegant design elements
– Complimentary wine served nightly at The James Club
– Seasonal American cuisine by Michelin-starred chef George Mendes at Veranda
Hotel Barrière Fouquet's New York
Hotel Barrière Fouquet's New York is a newly opened luxury hotel located in the trendy neighborhood of Tribeca. The property boasts art-deco-inspired rooms that exude sophistication and elegance. Each unit features high ceilings, large windows, and luxurious marble bathrooms. Guests can enjoy free internet access and access to the hotel's spa facilities, which include a steam room, sauna, pool, fitness center, and lounge area. For those seeking breathtaking views of the city, the hotel offers suites with private terraces overlooking the iconic New York Skyline and Hudson River with glimpses of the Statue of Liberty. Additionally, Hotel Barrière Fouquet's New York is home to two exquisite French restaurants – Brasserie Fouquet serving breakfast, lunch, and dinner; and Par Ici Café offering a delectable French vegetarian menu for lunch and dinner. With its prime location just moments away from Soho Shopping District, West Village, and Battery Park, this hotel combines luxury accommodation with convenience.
– Newly opened luxury hotel in trendy Tribeca
– Art-deco-inspired rooms with high ceilings
– Spa facilities including a pool and fitness center
– Suites with private terraces overlooking NYC skyline
– Two exceptional French restaurants on-site
Riu Plaza Manhattan Times Square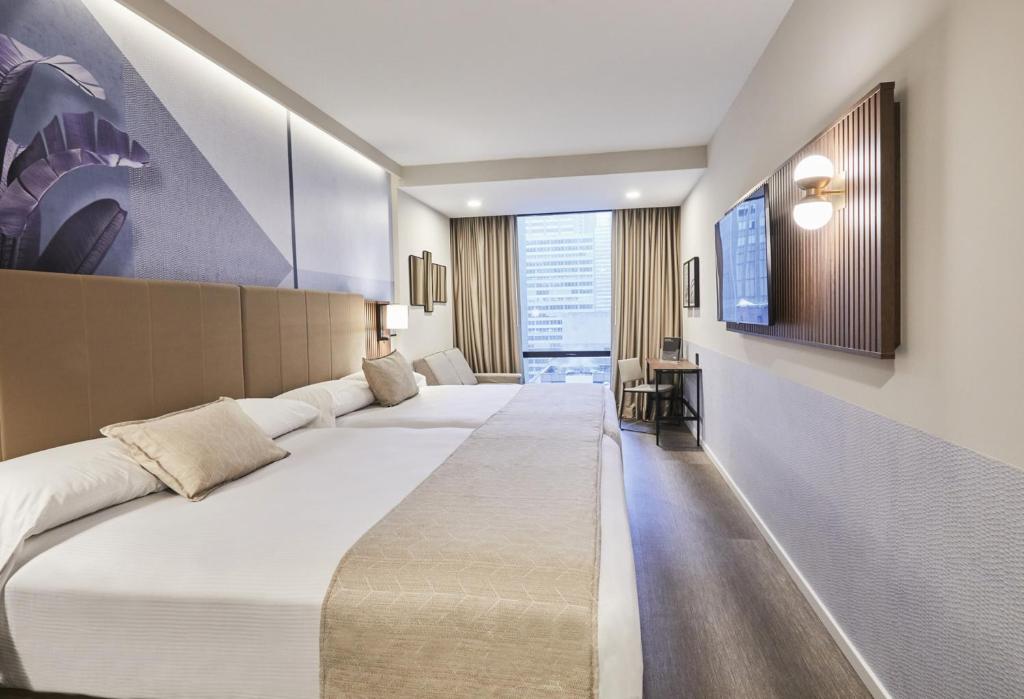 The Riu Plaza Manhattan Times Square is a luxurious 4-star hotel located in the heart of New York City. Since its opening in February 2021, this hotel has been offering guests a comfortable and convenient stay with its air-conditioned rooms, on-site restaurant, free WiFi, and bar. With a 24-hour front desk and business center, guests have all the amenities they need for both work and leisure. The property is non-smoking and is conveniently located less than 1 km from Bryant Park. Each room is well-equipped with a desk, flat-screen TV, private bathroom, fridge, bed linen, and towels. Guests can start their day with a delicious breakfast buffet featuring American and vegetarian options. The hotel's prime location makes it easy to explore popular attractions like Times Square, Radio City Music Hall, and Broadway Theatre. LaGuardia Airport is also just 12 km away from the accommodation.
– Prime location in the centre of New York
– Well-appointed air-conditioned rooms
– On-site restaurant serving diverse cuisine
– Free WiFi available throughout the hotel
– Convenient amenities such as a business center
Other places to stay in New York
Luxury Hotels in Downtown New York
Downtown New York is home to a plethora of luxury hotels that offer an unparalleled experience for discerning travelers. These upscale properties boast stunning architectural designs and sophisticated interiors, creating an atmosphere of opulence and indulgence. Guests can expect impeccable service from highly-trained staff who cater to their every need, ensuring a memorable stay. With prime locations in the heart of the city, these luxury hotels provide convenient access to renowned landmarks, world-class dining establishments, high-end boutiques, and vibrant nightlife. Whether it's panoramic views of the iconic skyline or serene retreats amidst the bustling cityscape, Downtown New York's luxury hotels epitomize elegance and refinement at its finest.
Hotel Beacon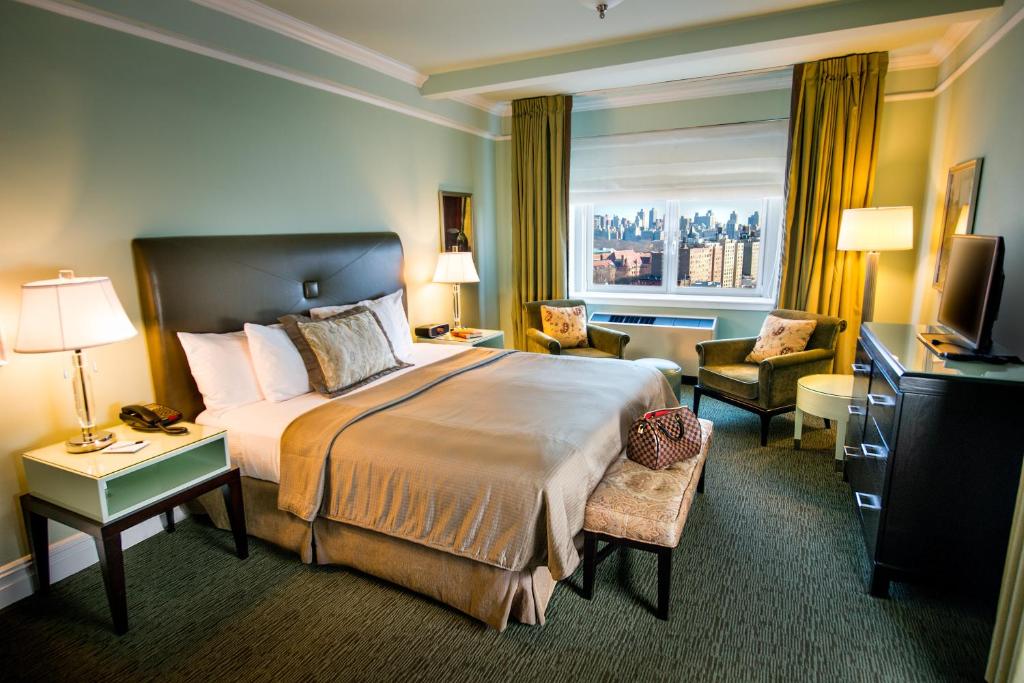 Hotel Beacon offers luxurious rooms and suites with kitchenettes and spacious living room seating areas. Located on Manhattan's Upper West Side, just 805 meters from Central Park, the hotel provides a perfect blend of comfort and convenience. Every room and suite features modern amenities including free cable on flat-screen TVs, iPod docks, and WiFi access. The kitchenettes are equipped with a microwave, refrigerator, and coffeemaker for added convenience. Suites also offer a separate living room with a comfortable sofa bed. The hotel boasts a serene lobby where guests can relax or catch up on reading. Additionally, there is a business center available for guest use as well as laundry service and luggage storage facilities. With its prime location, Hotel Beacon is within walking distance of popular attractions such as the American Museum of Natural History (322 meters away) and Lincoln Center Plaza (1.1 km away). Situated adjacent to the famous Beacon Theatre on Broadway, the hotel also provides easy access to public transportation with a subway station only 162 meters away.
– Convenient location near Central Park
– Well-equipped kitchenettes in every room
– Spacious suites with separate living areas
– Serene lobby for relaxation
– Close proximity to popular attractions
The Ludlow Hotel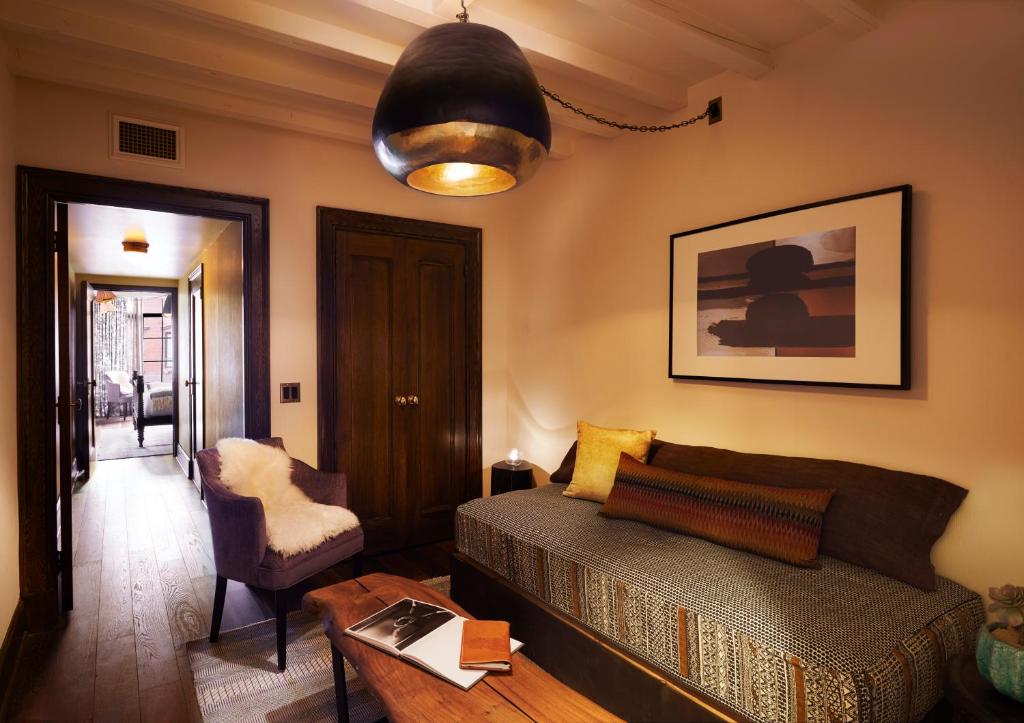 Located in the vibrant Lower East Side neighborhood of Manhattan, The Ludlow Hotel offers stunning views of the iconic New York City skyline and bridges. Each guestroom provides complimentary WiFi access and is adorned with luxurious features such as hardwood floors, handmade silk rugs, and artisan-crafted Moroccan lamps. Guests can indulge in local products from the minibar or relax in the marble mosaic en suite bathroom with a deep soaking bathtub and brass rain shower. The hotel boasts a trellis-covered garden for unwinding, a lobby bar and lounge for enjoying drinks, and a 24-hour fitness center for staying active. Conveniently situated just 161 meters from the 2nd Avenue Station, guests have easy access to explore all of Manhattan and Brooklyn. With its impeccable design details and prime location near popular attractions like the Lower East Side Tenement Museum and New Museum, The Ludlow Hotel offers an exceptional luxury experience.
– Spectacular views of New York City's skyscrapers and bridges
– Complimentary WiFi access in every guestroom
– Luxurious amenities including hardwood floors and handmade silk rugs
– Trellis-covered garden for relaxation
– Close proximity to popular museums like the Lower East Side Tenement Museum
The Asbury Hotel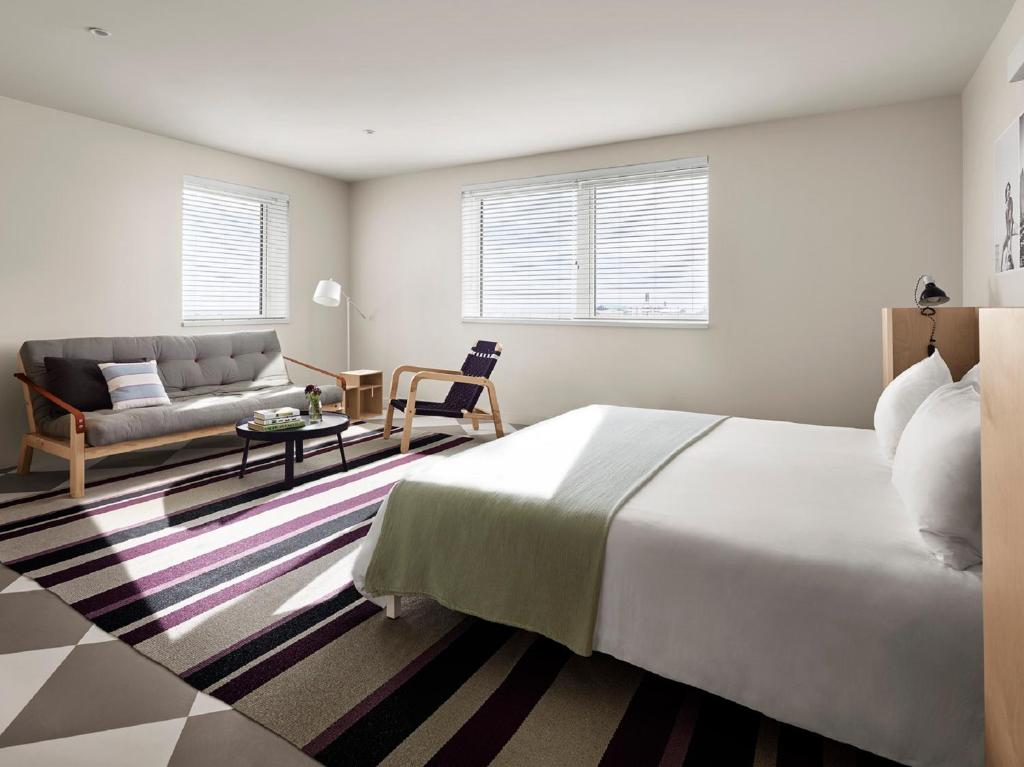 The Asbury Hotel, located in Asbury Park just 300 meters from the Boardwalk and beach, is a luxury hotel that offers an array of amenities. The hotel features a heated outdoor pool that is open year-round and a seasonal rooftop bar with breathtaking views of the sea. In addition to its top-notch accommodations, The Asbury Hotel also boasts a vibrant lobby that doubles as a cafe, bar, and music venue. Guests can enjoy live shows, game nights, and gatherings right on-site. For those looking for some entertainment options, there is also an on-site bowling alley called Asbury Lanes which also serves as a music venue and diner. Each room at this stylish hotel comes equipped with air conditioning and a flat-screen TV. Some units even offer separate seating areas for added comfort. All rooms have private bathrooms with showers and complimentary toiletries are provided along with hair dryers. Guests can easily explore the area by renting bicycles available at the hotel or enjoy golfing nearby. With its ideal location and plethora of amenities, The Asbury Hotel is perfect for both relaxation and entertainment seekers alike.
– Heated outdoor pool open year-round
– Seasonal rooftop bar with stunning sea views
– Vibrant lobby serving as cafe, bar, and music venue
– On-site bowling alley/music venue/diner called Asbury Lanes
– Stylish rooms with comfortable seating areas
Most Expensive Hotels in New York
New York City is renowned for its luxurious accommodations, offering some of the most expensive hotels in the world. These high-end establishments boast opulent decor, impeccable service, and unparalleled attention to detail. With extravagant suites, breathtaking views, and a range of exclusive amenities, these hotels cater to discerning travelers seeking an indulgent experience. From lavish penthouses to world-class dining options and exquisite spa facilities, visitors can expect nothing short of exceptional luxury at New York's most expensive hotels.
The Belvedere Hotel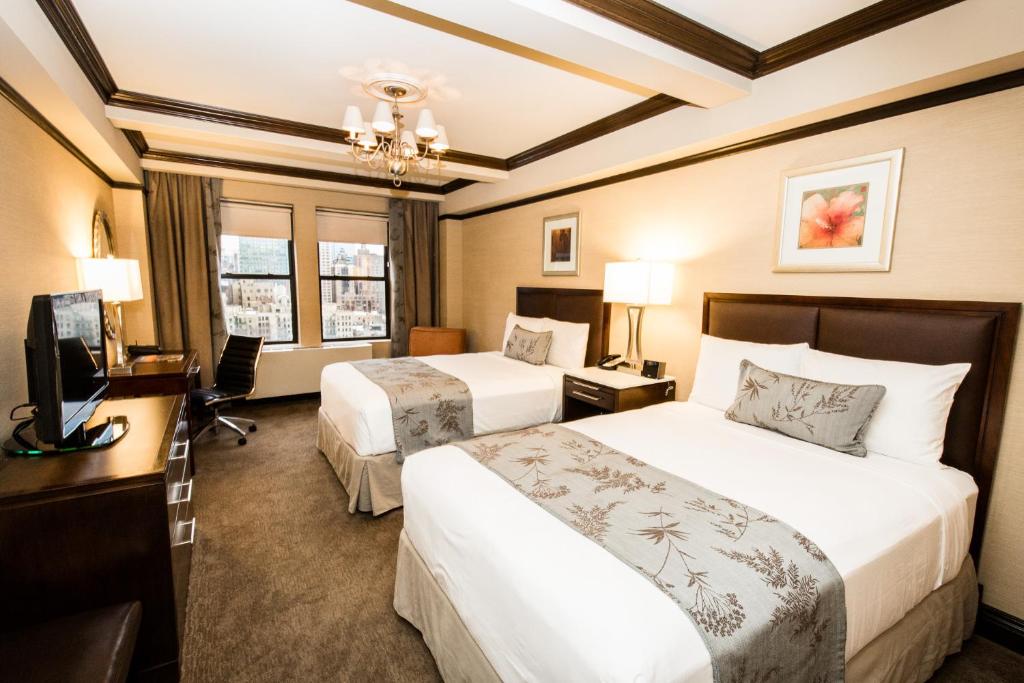 Located in the heart of the Theater District and Times Square, The Belvedere Hotel is a luxurious accommodation option that offers easy access to popular attractions such as Radio City Music Hall and Broadway Theatre. The hotel provides free WiFi and boasts elegantly furnished units equipped with modern amenities including flat-screen TVs, work desks, microwaves, and refrigerators. Guests can indulge in delicious Brazilian cuisine at the on-site restaurant or take advantage of the fitness center and business center facilities. Additional perks include daily morning coffee served in the Hudson Lobby, unlimited local calls, package receiving services, and helpful tips from the 24-hour front desk staff. Carnegie Hall and Rockefeller Center are within close proximity to the property while LaGuardia Airport is just 13 km away.
Pros:
1. Convenient location near Times Square and popular theaters
2. Well-appointed rooms with modern amenities
3. On-site restaurant serving delectable Brazilian cuisine
4. Access to fitness center for health-conscious travelers
5. Excellent customer service with knowledgeable staff at the 24-hour front desk
Hotel Elysee by Library Hotel Collection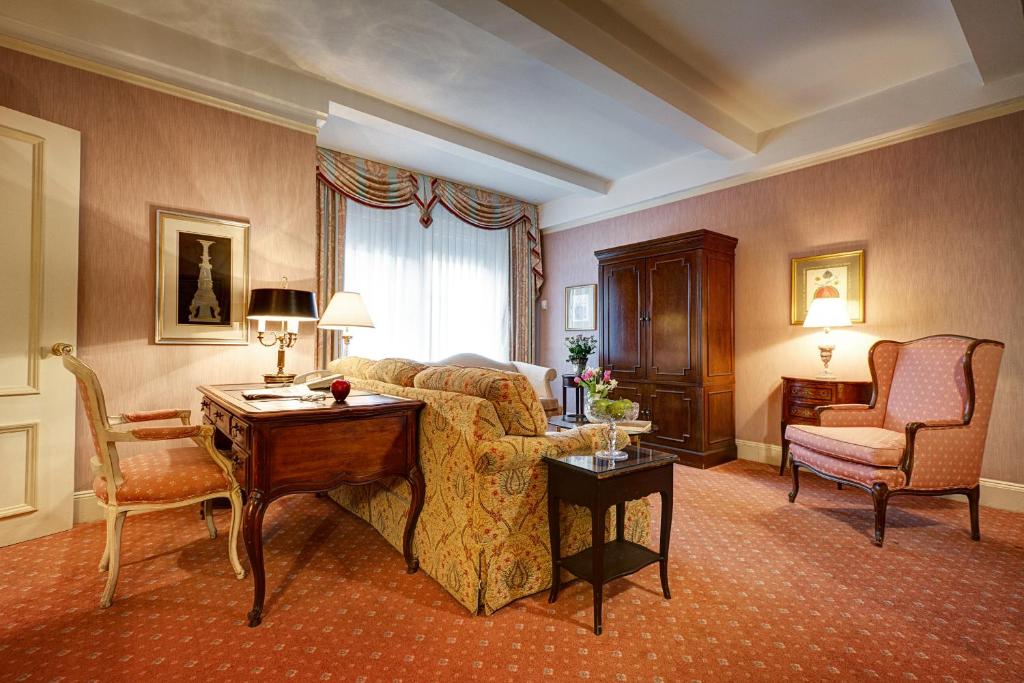 Hotel Elysee by Library Hotel Collection is a luxurious Midtown hotel located just steps away from popular attractions like Rockefeller Center and Central Park. With its convenient location, guests have easy access to the best that New York City has to offer. The hotel offers free WiFi, on-site dining options, and even provides passes to a nearby fitness center for those looking to stay active during their stay. The Museum of Modern Art is also within walking distance, allowing guests to immerse themselves in art and culture. The hotel itself boasts elegant accommodations with amenities such as an iPod docking station, flat-screen cable TV, and en suite marble bathroom. The French Country style decor adds a touch of sophistication to the overall ambiance of the hotel. For those wanting to experience the excitement of Times Square, it is only 1.6 km away.
Pros:
– Convenient location near popular attractions
– Free WiFi available for guests
– On-site dining options for convenience
– Passes provided for nearby fitness center
– Elegant accommodations with luxurious amenities
The Ritz-Carlton New York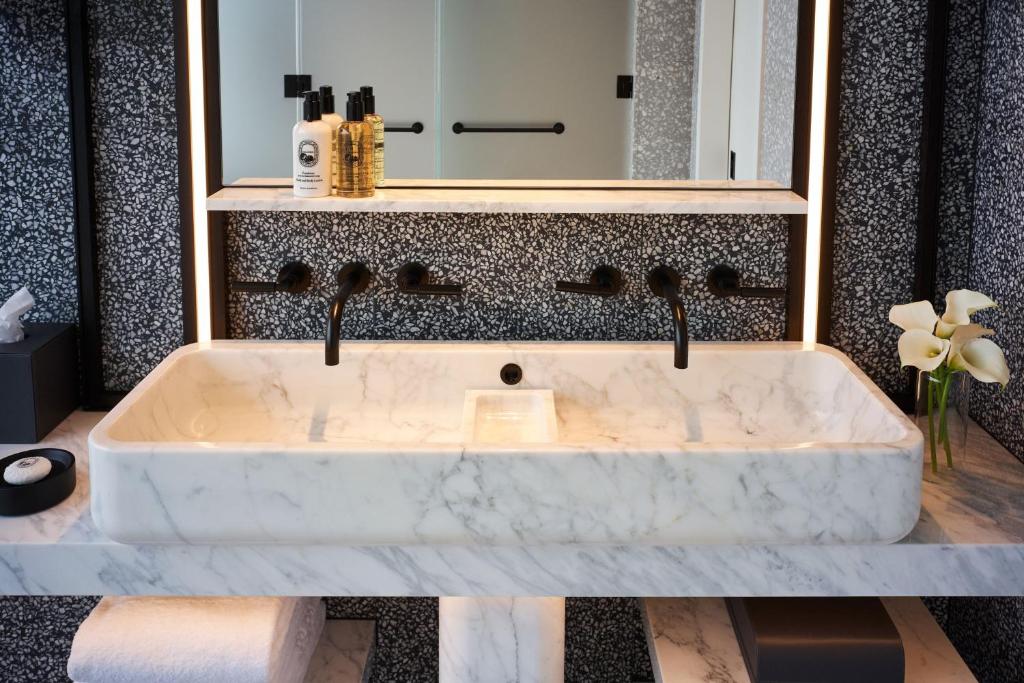 The Ritz-Carlton New York, NoMad is a luxurious hotel located in the heart of New York. Opened in November 2021, this stylish property offers guests a range of amenities including a fitness centre, private parking, and a beautiful garden. With its convenient location near popular attractions such as Macy's, Bryant Park, and Grand Central Station, guests can easily explore the city. The hotel's restaurant serves delicious American, Mediterranean, and Spanish cuisine to satisfy any palate. For relaxation and entertainment, there is a sauna and a kids' club available on-site. Additionally, the 24-hour front desk staff can assist guests in multiple languages including German, English, Spanish, and French. With its prime location and luxurious offerings, The Ritz-Carlton New York is an ideal choice for discerning travelers.
– Convenient location near popular attractions
– Stylish and luxurious accommodations
– Fitness centre for guests to stay active
– On-site sauna for relaxation
– Multilingual staff at the 24-hour front desk
Information about Luxury Hotels in New York
| | |
| --- | --- |
| 🛎️ Luxury Hotels in New York | 9 |
| 💵 Hotels Prices From | $203 |
| 💰 High season average price | $770 |
| ⭐ Number of Hotels Reviews | 8.7/10 |
FAQ
What are some of the best luxury hotels in New York City?
New York City is home to several top-notch luxury hotels. The Four Seasons Hotel New York, The Peninsula New York, and The Plaza Hotel are among the most highly recommended choices for travelers seeking a luxurious and unforgettable stay in the city that never sleeps.
Are there any luxury hotels with views of Central Park?
Yes, there are several luxury hotels in New York City that offer breathtaking views of Central Park. The Ritz-Carlton New York, Central Park and Mandarin Oriental, New York are two excellent options for those looking to enjoy stunning vistas of this iconic green oasis right from their hotel room.
Which luxury hotels in New York City have the best spa facilities?
When it comes to pampering yourself with a luxurious spa experience in NYC, you won't be disappointed. The St. Regis New York and The Waldorf Astoria Spa at Waldorf Astoria New York are renowned for their world-class spa facilities and extensive range of treatments designed to rejuvenate both body and mind.
Are there any pet-friendly luxury hotels in NYC?
Yes, pet lovers will be glad to know that there are pet-friendly luxury hotels available in NYC. Some notable options include the Baccarat Hotel & Residences and The Mark Hotel, which both welcome four-legged guests with open arms and provide special amenities for their comfort and enjoyment.
What makes boutique hotels stand out among other luxury accommodations?
Boutique hotels offer a unique charm that sets them apart from larger chain establishments. These intimate properties often feature stylish decor, personalized service, and attention to detail that create an exclusive atmosphere catered specifically to individual guests' tastes. Boutique hotels provide not only luxurious accommodations but also an opportunity to experience a one-of-a-kind stay tailored just for you.
Popular Most Luxurious hotel destinations