Welcome to a destination where opulence meets tranquility – Adelaide, Australia. Known for its picturesque landscapes, world-class dining experiences, and rich history, this city offers an array of luxury accommodations that will leave even the most discerning traveler in awe. From boutique hotels nestled in historic buildings to contemporary resorts boasting breathtaking views of the city skyline, Adelaide has it all when it comes to indulging in lavish hospitality. Whether you're seeking a relaxing retreat or a vibrant urban escape, prepare to be pampered by the finest amenities and impeccable service that these luxurious havens have to offer.
Immerse yourself in the charm of Adelaide's thriving cultural scene while staying at one of the city's exquisite 5-star hotels. With their elegant decor and sophisticated ambience, these establishments provide an oasis of elegance amidst the bustling streets. Indulge in spacious suites adorned with plush furnishings and modern comforts, ensuring a restful night's sleep after exploring all that Adelaide has to offer. Wake up to sweeping views from your private balcony before enjoying a sumptuous breakfast prepared by world-class chefs using locally sourced ingredients.
For those looking for something truly extraordinary, venture outside the city center and discover hidden gems nestled among vineyards or along pristine beaches. Retreats offering seclusion and serenity allow you to unwind amidst nature's beauty without compromising on luxury amenities. Immerse yourself in rejuvenating spa treatments or take leisurely strolls through lush gardens as you soak up the tranquility surrounding these exclusive hideaways.
In Adelaide, luxury knows no bounds – from top-notch service and stylish interiors to breathtaking surroundings, this Australian gem is sure to captivate even the most seasoned traveler seeking an unforgettable experience filled with indulgence.
Most Luxurious Hotels in Adelaide
Semaphore Splash Apartments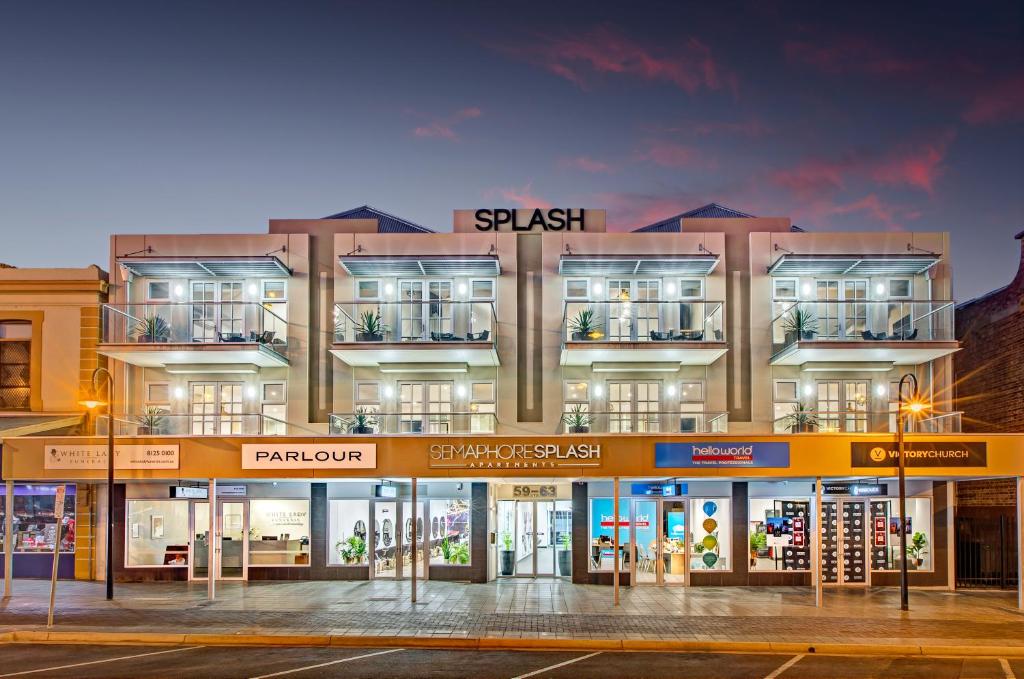 Semaphore Splash Apartments is a boutique apartment complex that offers luxurious and spacious accommodation. Built in 2017, the apartments are lift-operated and feature balcony views of Semaphore Road and the beach. Each apartment boasts open-plan living with a full kitchen equipped with a dishwasher and oven. The main bathrooms have both a bathtub and separate shower, while many apartments also include an extra ensuite. With restaurants, cafes, and supermarkets just a minute's walk away, guests have easy access to all their needs. The TechPort Adelaide is only a 10-minute drive away, while the historic Port Adelaide can be reached in just 5 minutes. For shopping enthusiasts, the Westfield West Lakes Shopping Centre is conveniently located within a 5-minute drive. Additionally, the Adelaide City centre is approximately 14km from the property.
– Boutique apartment complex
– Spacious and lift-operated apartments
– Balcony views of Semaphore Road and the beach
– Convenient location with restaurants, cafes, and supermarkets close by
– Easy access to nearby attractions such as TechPort Adelaide and historic Port Adelaide
Crowne Plaza Adelaide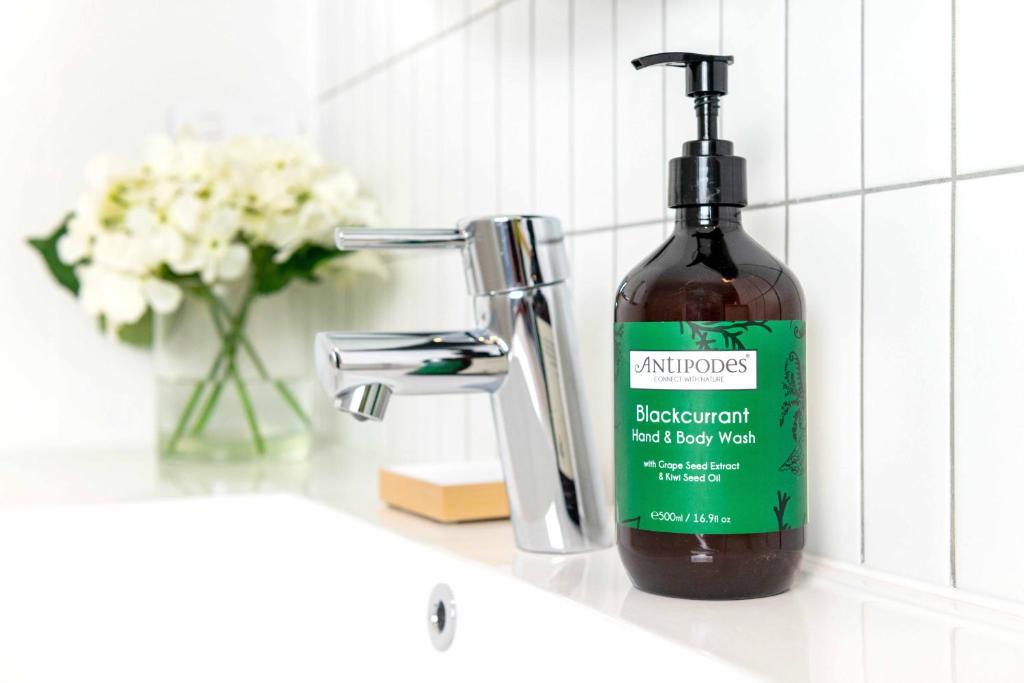 Opened in January 2020, Crowne Plaza Adelaide is a luxury hotel that offers guests a truly elevated experience. Situated in the heart of Adelaide, it boasts the city's highest restaurant, providing breathtaking views while you dine. The hotel also features an outdoor heated swimming pool and a poolside bar and cocktail lounge for ultimate relaxation. The impeccable service includes a concierge desk and tour assistance, ensuring that your stay is seamless from start to finish. With free WiFi throughout the property and 24-hour front desk services, convenience is at your fingertips. The well-appointed rooms are equipped with modern amenities such as flat-screen TVs, private bathrooms, and air conditioning. Start your day off right with breakfast available every morning. Located near popular attractions like Ayers House Museum and Rundle Street, as well as the beautiful Adelaide Botanic Garden and Lot Fourteen, there is no shortage of things to explore during your stay. With Adelaide Airport just 8 km away, Crowne Plaza Adelaide offers both comfort and accessibility.
– Highest restaurant in Adelaide with stunning city views
– Outdoor heated swimming pool for relaxation
– Convenient location near popular attractions
– Impeccable service including concierge assistance
– Free WiFi throughout the property for connectivity
Miller Apartments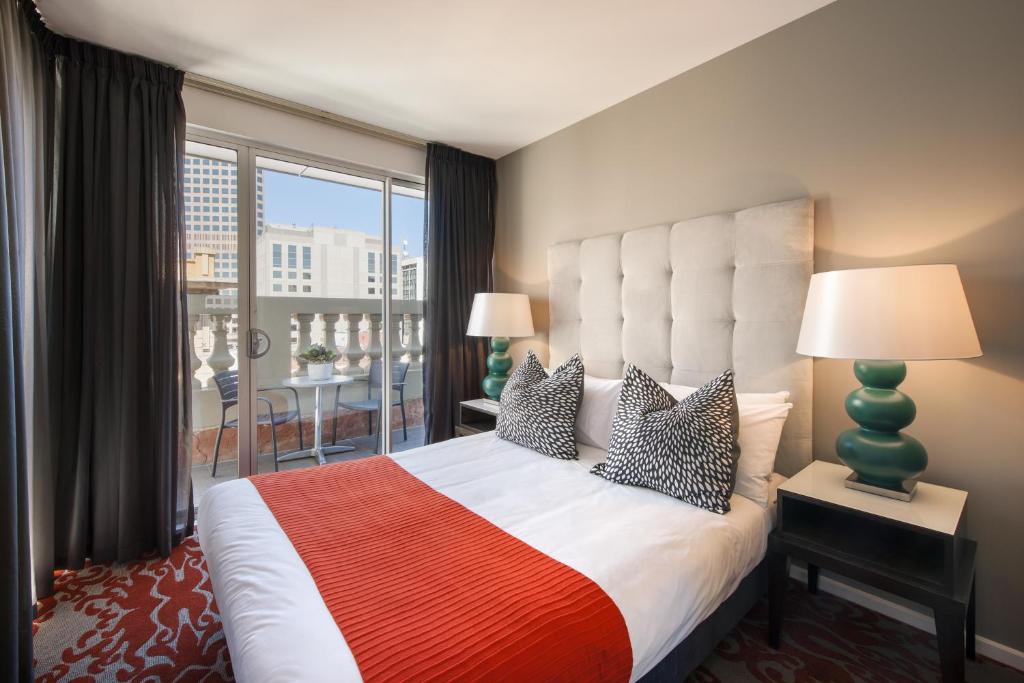 The award-winning Miller Apartments offer stylish and fully self-contained accommodation just metres away from Adelaide's renowned Rundle Mall. With friendly service and unlimited free WiFi, guests can enjoy a comfortable stay in the heart of the city. The apartments feature a fully equipped kitchen, separate living area, cable TV, writing desk, and individually controlled air conditioning. Additional amenities include a well-equipped fitness room and secure on-site parking. Guests can also take advantage of the charge-back service at nearby restaurants or opt for delivery service. With daily servicing of the apartments, visitors can rest assured that their needs will be taken care of. Plus, with attractions such as Adelaide Oval, Adelaide Convention Centre, Rundle Mall shopping precinct, and the new entertainment hub of the West End all within walking distance, guests will have no shortage of things to see and do during their stay.
– Superb location just steps away from Rundle Mall
– Stylish and fully self-contained apartments
– Unlimited free WiFi for guests
– Well-equipped fitness room available
– Charge-back service at nearby restaurants or delivery option
Other places to stay in Adelaide
Luxury Hotels in Downtown Adelaide
Downtown Adelaide boasts a vibrant selection of luxury hotels that cater to discerning travelers seeking opulence and comfort. These establishments feature exquisite decor, impeccable service, and an array of upscale offerings. From stunning rooftop bars offering panoramic city views to lavish spa facilities providing indulgent treatments, these hotels redefine the concept of elegance. Located in the heart of the city, visitors can conveniently explore nearby attractions and immerse themselves in the bustling urban atmosphere before returning to their luxurious haven for a truly memorable experience in downtown Adelaide.
North Adelaide Boutique Stays Accommodation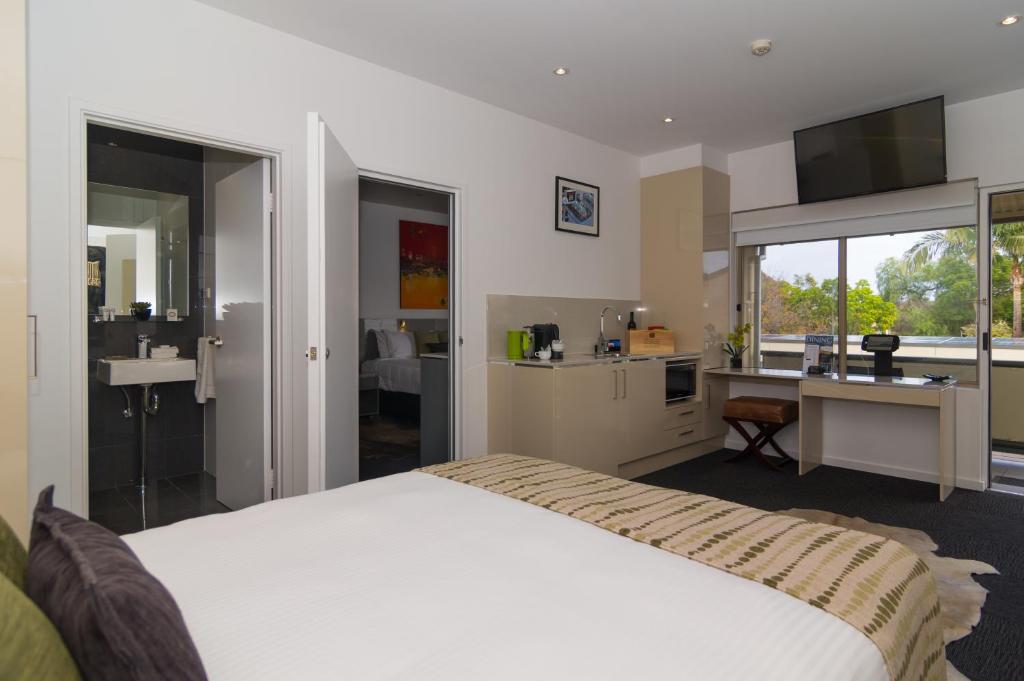 Nestled in the charming Gover St and surrounded by Adelaide's stunning architectural homes, North Adelaide Boutique Stays Accommodation offers boutique-style accommodations with 1, 2, and 3-bedroom studios. Built in 2014, this property is conveniently located just 2 km from the Adelaide City Centre and within walking distance of local bars and the vibrant dining precinct. The iconic Adelaide Oval and Adelaide Festival Centre are also just a short stroll along O'Connell Street. Each studio provides complimentary WiFi, cable channels, and limited on-site parking. Inside the rooms, guests can enjoy amenities such as a Nespresso coffee machine, iPad, kitchenette facilities, minibar, and ensuite bathroom. With pillow-top mattresses and a pillow menu available for personalized comfort choices, guests are guaranteed a fantastic night's sleep. Hairdryers, towels, and toiletries can be requested from reception as needed.
– Convenient location close to Adelaide City Centre
– Charming surroundings of picturesque Gover St
– Complimentary WiFi and cable channels
– Well-appointed studios with modern amenities
– Personalized comfort options with pillow-top mattresses
Majestic Roof Garden Hotel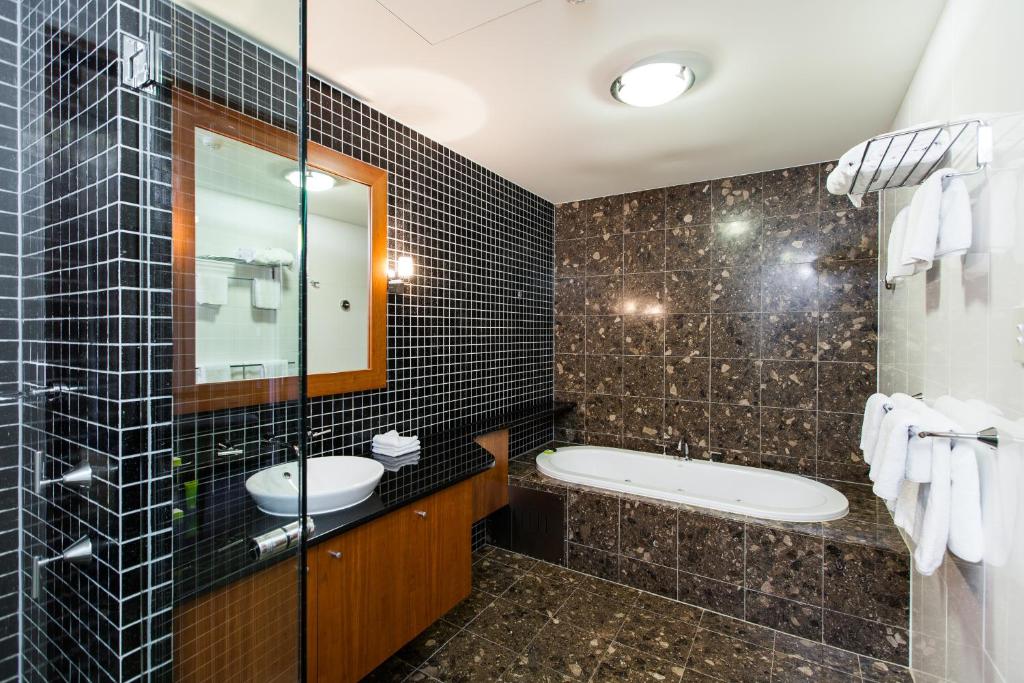 The Majestic Roof Garden Hotel is a 4.5-star luxury hotel that has won numerous awards for its exceptional service and amenities. Situated just 50 metres away from the vibrant bars, restaurants, and shopping of Rundle Street, this hotel offers guests easy access to the best that Adelaide has to offer. The highlight of the hotel is its rooftop garden, which provides breathtaking panoramic views of the cityscape. The location is also ideal for exploring nearby attractions such as Rundle Mall, the Art Gallery, Adelaide University, and the Museum. Other popular destinations like the Adelaide Convention Centre, National Wine Museum, and Adelaide Zoo are just a short 20-minute drive away.
– Modern rooms with king-size beds and top-notch amenities
– Excellent on-site facilities including a business center and fitness room
– In-house restaurant serving delectable meals
– Convenient secure parking available on-site
– Unique function rooms on the rooftop with stunning natural light and audio-visual equipment options
Lakes Hotel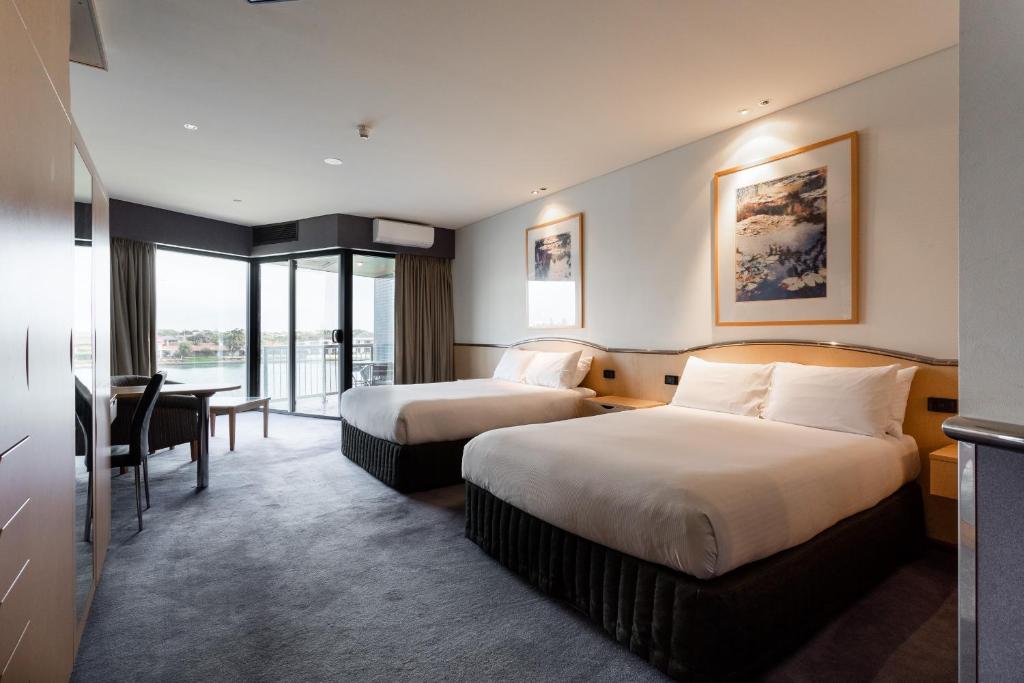 Located on the serene waters of West Lakes, Lakes Hotel is a luxurious retreat offering a host of amenities. With an award-winning restaurant, a bar, and an indoor fitness center boasting a heated pool and stunning lake views, guests can enjoy ultimate relaxation. Each suite features a private balcony with picturesque lake views, as well as modern comforts like an LCD TV, work desk, minibar, and tea/coffee making facilities. Some suites even offer the indulgence of a 2-person spa bath and DVD player. Guests can savor fine dining at Crusoe's Restaurant or opt for casual all-day dining in the lakeside beer garden at The Lakes Bar. Complimentary breakfast is served in Knots Kitchen to start your day off right. Additionally, the hotel offers facilities such as a function center, gaming lounge, and liquor store to cater to every guest's needs. For those looking to explore beyond the hotel's premises, visits to nearby wine regions and other local activities can be arranged upon request. Adding another touch of convenience, complimentary local newspapers are available upon request as well.
Pros:
– Indoor pool for year-round relaxation
– Award-winning restaurant serving exquisite cuisine
– Suites with private balconies offering breathtaking lake views
– Close proximity to Adelaide city center and shopping precinct
– Arrangement of visits to wine regions and local activities
Most Expensive Hotels in Adelaide
Adelaide, known for its vibrant culture and beautiful landscapes, offers a range of luxurious accommodations that cater to the discerning traveler. The city is home to some of the most expensive hotels in Australia, where opulence meets world-class service. With their exquisite design and attention to detail, these establishments provide a haven of indulgence and relaxation for those seeking the finest experiences. From lavish suites boasting breathtaking views to impeccable dining options featuring gourmet cuisine, the most expensive hotels in Adelaide are truly a testament to luxury at its finest.
Oaks Glenelg Plaza Pier Suites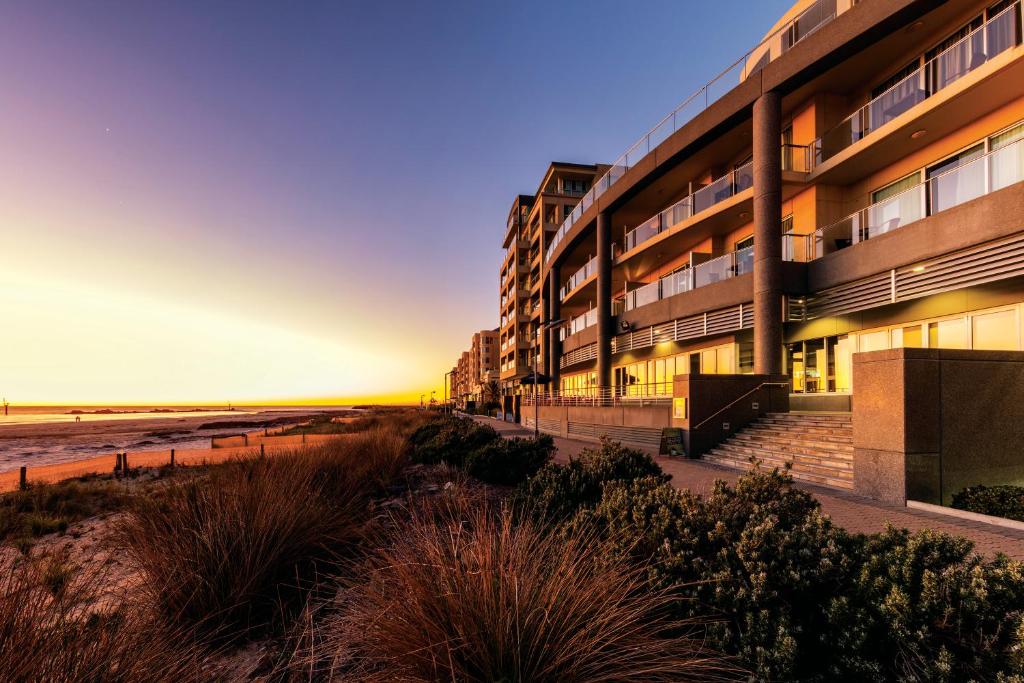 Situated on the beachfront in Glenelg with stunning ocean views, the award-winning Oaks Glenelg Plaza Pier Suites is a luxurious apartment hotel that offers beautifully appointed accommodation in Adelaide's historic beachside community. Guests can enjoy a range of amenities including an indoor swimming pool and a fitness centre. The air-conditioned accommodation features refrigerators and cable TV, with most apartments boasting fully equipped designer kitchens, laundry facilities, and private balconies offering either ocean or park views. The hotel also boasts two bars and three café restaurants, all showcasing fantastic ocean views. Additional services include valet laundry service and tour booking facilities. With its convenient location just a 30-minute tram ride from Adelaide city centre, guests have easy access to the vibrant city attractions. Holdfast Marina is only 100 metres away while Glenelg's Jetty Road shopping precinct is just 500 metres from the complex.
– Beachfront location
– Picturesque ocean views
– Indoor swimming pool
– Fully equipped designer kitchens in most apartments
– Access to valet laundry service and tour booking facilities
The Playford Adelaide – MGallery by Sofitel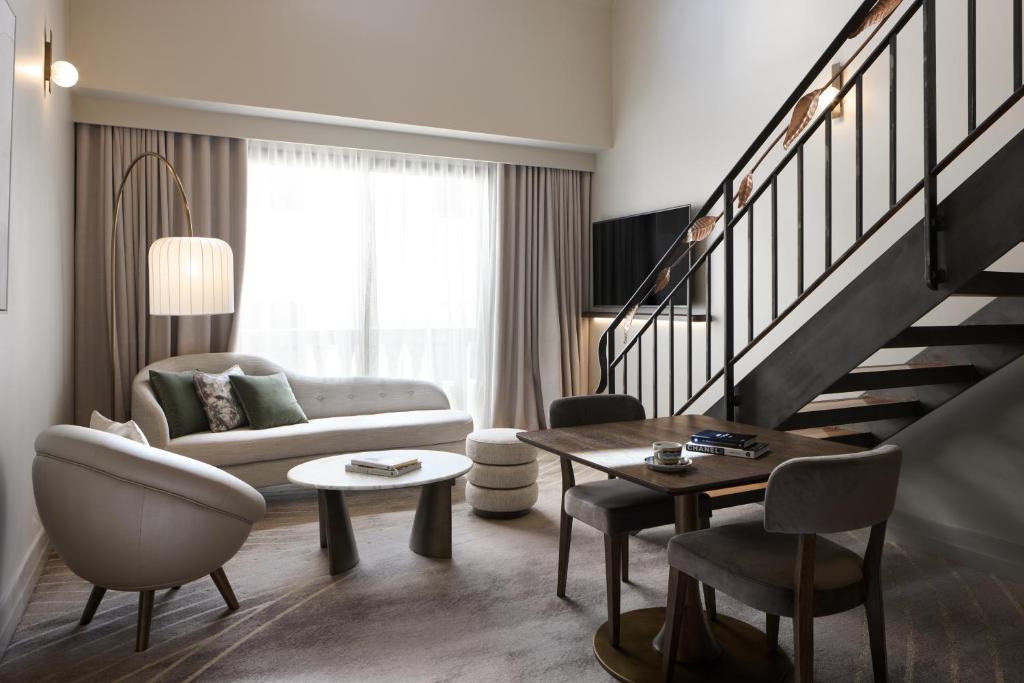 The Playford Adelaide – MGallery by Sofitel is an award-winning 5-star boutique hotel located in the heart of Adelaide on vibrant North Terrace. This luxurious hotel offers a range of amenities including a 24-hour fitness center with a heated pool and sauna. Some suites even feature a spa bath, separate living area, and small kitchenette. While The Playford Restaurant and Lounge Bar are currently closed for renovation until September 1st, guests can enjoy the convenience of a brand new in-room dining menu available 24 hours a day. With its prime location opposite the Adelaide Convention Centre and Adelaide Casino, this hotel is just a short walk away from popular attractions such as Adelaide Oval and Rundle Mall shopping area. The nearby West End boasts an array of bars and restaurants, while the tram to Glenelg Beach departs right outside the hotel. Each elegantly designed room at The Playford features high ceilings, work desks, air conditioning, cable TV, and marble en-suite bathrooms. Guests can also enjoy tea/coffee making facilities and minibars in their rooms. Although city views may be limited due to its central location, this hotel offers exceptional facilities including a 24-hour reception desk, business center services, valet parking facilities, and guest laundry services. The tour desk can also assist with arranging day tours to renowned wine regions such as Barossa Valley or McLaren Vale as well as provide valuable advice on things to see and do in town.
Pros:
– Convenient location near major attractions
– Luxurious amenities including heated pool and sauna
– Classically designed rooms with comfortable features
– Brand new in-room dining menu available 24/7
– Helpful tour desk for arranging day trips or offering local recommendations
Adina Apartment Hotel Adelaide Treasury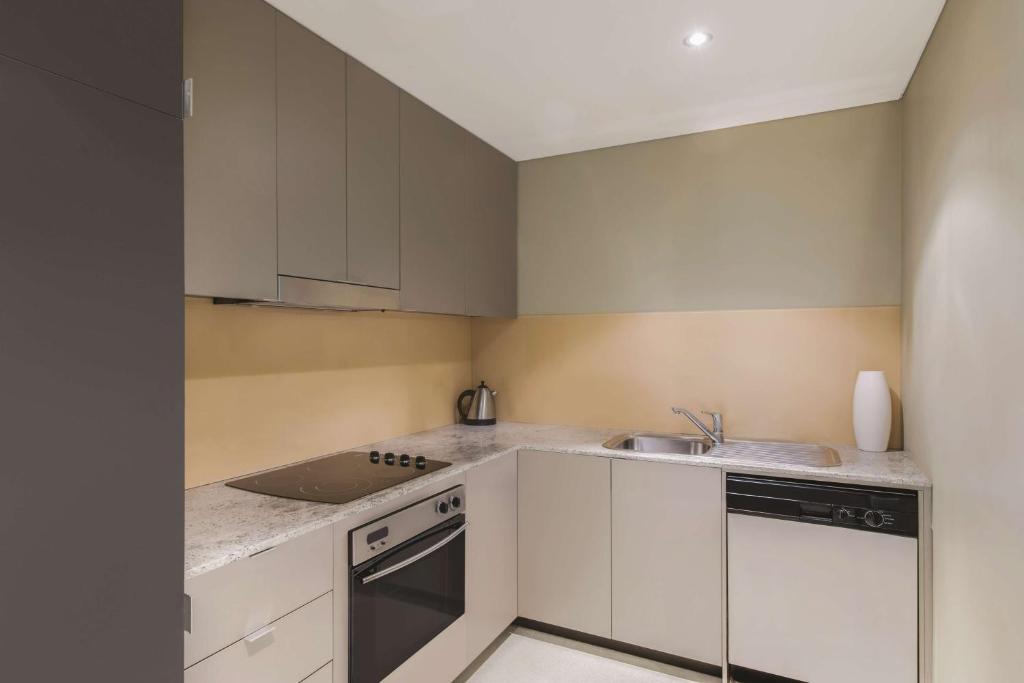 Located in the heart of Adelaide, Adina Apartment Hotel Adelaide Treasury is a luxurious apartment hotel housed in a heritage-listed former Treasury Building. The interiors are beautifully adorned with elegant Italian furniture and stunning Australian artwork. The spacious apartments and open-plan studio rooms feature kitchenettes, allowing guests to enjoy the convenience of self-contained living. Free WiFi is available up to 100MBS per 24 hours, and accommodation can be booked on a bed-and-breakfast basis. Guests can unwind in the sauna, take a dip in the heated swimming pool or stay active at the fully equipped fitness center. Additionally, meeting facilities and child minding services are provided for added convenience. The on-site restaurant offers a delicious breakfast with options like toast, eggs, bacon, tomatoes, filter coffee, and fruit juice. With its central location surrounded by an array of restaurants, cafes, and shops just minutes away, Adina Apartment Hotel Adelaide Treasury provides guests with both luxury accommodations and unbeatable access to city attractions.
– Prime location in the heart of Adelaide
– Stylish interiors adorned with elegant Italian furniture
– Fully self-contained apartments with kitchenettes
– Inviting amenities including sauna and heated swimming pool
– Close proximity to an abundance of dining and shopping options
Information about Luxury Hotels in Adelaide
| | |
| --- | --- |
| 🛎️ Luxury Hotels in Adelaide | 9 |
| 💵 Hotels Prices From | $174 |
| 💰 High season average price | $1519 |
| ⭐ Number of Hotels Reviews | 8.6/10 |
FAQ
What are the top luxury hotels in Adelaide?
Adelaide offers a range of luxurious accommodations to suit discerning travelers. Some of the top luxury hotels in the city include Mayfair Hotel, InterContinental Adelaide, and The Playford Adelaide – MGallery. These properties provide impeccable service, elegant rooms with modern amenities, and excellent dining options to ensure a memorable stay.
What is the average price for a luxury hotel in Adelaide?
The average price for a luxury hotel room in Adelaide typically ranges from $200 to $400 per night. However, prices may vary depending on factors such as location, seasonality, and specific hotel offerings. Keep in mind that some high-end hotels also offer exclusive packages or special discounts during certain times of the year.
Which luxury hotels in Adelaide have spa facilities?
Several luxury hotels in Adelaide offer exceptional spa facilities for their guests' ultimate relaxation. One such hotel is The Stamford Grand Hotel Glenelg, which features an indulgent day spa offering various treatments and therapies. Another option is Mount Lofty House – MGallery by Sofitel, known for its stunning spa retreat nestled amidst beautiful gardens and vineyards.
Are there any pet-friendly luxury hotels in Adelaide?
Yes, there are some pet-friendly luxury hotels available in Adelaide that cater to travelers who want to bring their furry friends along. One example is The Watson Hotel which not only offers luxurious accommodation but also welcomes well-behaved pets at an additional cost. It's always recommended to check each individual hotel's policy regarding pets before making a reservation.
What are some popular attractions near luxury hotels in Adelaide?
Many of the luxurious accommodations in Adelaide are conveniently located near popular attractions that guests can explore during their stay. For instance, staying at The Mayfair Hotel provides easy access to Rundle Mall for shopping enthusiasts or cultural landmarks like Art Gallery of South Australia and South Australian Museum for art lovers. Similarly, InterContinental Adelaide is situated near the picturesque River Torrens, offering stunning views and proximity to Adelaide Festival Centre and Adelaide Convention Centre.
Popular Most Luxurious hotel destinations